As one of our friends and former reviewers recently said, anyone who says it has been a shit year for new music isn't looking hard enough. Crap though 2016 was, in so many ways, the quality and diversity of releases in our sphere of sound has been astounding. Here, as is now tradition, we pick our top ten tracks each from the year to create a compilation tape of sorts.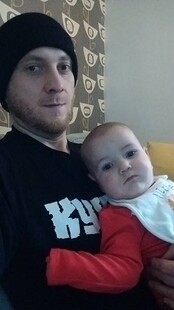 Pete's tracks of the year:
Oranssi Pazuzu - Saturaatio
(from Värähtelijä; Svart; Review)
"Truly an Alice down the rabbit hole monument, an album of such scope and emotion, Oranssi Pazuzu paint the most kaleidoscopic of tapestry, a festival of the boundaries within which extreme music can push. Nothing can come close to album of the year. I pick this as my song, mainly for the energetic metallic drop out of the pysch minefield six minutes or so in, but it could be any number of them."
Haast's Eagled - Pyaaz Bhonghi
(from II: For Mankind; Holy Roar; Review)
"On first listen Pyaaz Bhonghi gave me shivers, on repeat listens that didn't wane, despite how many times I played it, and even now, months on, playing it again, it still makes me emotional. The build up is superb, doom and death vocals over the Yob style expanse. The piano-led ending is when I lose it, every time, and I can't ever say why - I can only presume it's because it is so fucking good."
Wode - Trails of Smoke
(from Wode; Sell Your Soul / Broken Limbs / COF; Review)
"I've loved this track for a few years, appearing on their earlier demo, but I'm not going to pass up the chance to laud it again. A massive surge in emotion, set within a nasty black metal sound (one nastier than originally, darkened in the bolder production), little from the genre has ever contained such an engaging pull on me as this outstanding piece."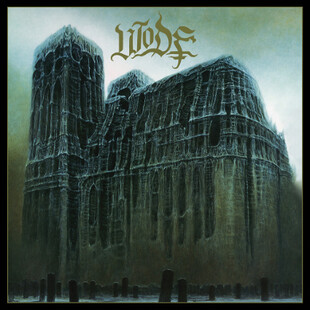 Bolzer - The Archer
(from Hero; Iron Bonehead; Review)
"An extreme metal masterclass. A thunderous churn drives the track along, through numerous passages of mesmeric quality that few bands would struggle to achieve across a whole abum"
Montgolfière - Ghosts of the Wild
(from Montgolfière; self released; Review)
"For all the Wodes and the Bolzers of the year - or maybe due to them - there's always space for a bit of psychedelia. This was one of the gentler albums that took me, but this track, and especially the beautiful mellow ending have stayed with me all year. A track to get lost to in summer dreams, so easily forgotten at this time of year."
Slabdragger - Shrine of Debauchery
(from Rise of the Dawncrusher; Holy Roar; Review)
"Moving away from the almost hardcore approach to doom of their debut, to elongated epic tracks that befits the galaxy-wide horizons of the artwork, Slabdragger took a giant leap forward with this marvellous album. Shrine of Debauchery is to my mind the highlight, one that develops grandly, and for all the talk of grandness and expanse, still contains a crushing weight."
Palehorse - The Shower
(from Looking Wet in Public; Truthseeker)
"Normally for a band to record an album as good as this as their swansong would be a shame, but for Palehorse it seems inevitable, and fitting with their chaotic existence. For this is a stunning bow out, The Shower my stand out, but it could have been one of any of them."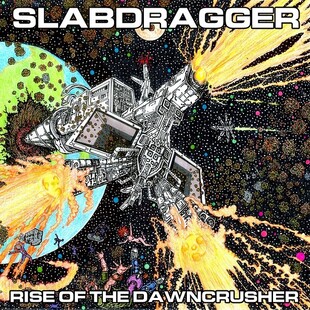 Hotel Wrecking City Traders - Dusted Pines
(from Phantamonium; Evil Hoodoo; Review)
"They've been around for presumably over a decade now, turning out quality albums on a regular basis. But here Hotel Wrecking City Traders stepped up a gear, changing tack ever so slightly with a denser psyche sound, one to get lost in, zoned out in a magical haze."
Okkultokrati - Hard to Please, Easy to Kill
(from Raspberry Dawn; Southern Lord; Review)
"Ever bold, Okkultokrati approach the future always with a restless bravery, their evolution here not so much a steep curve but using a different axis altogether. From their once doom crust niche, this year's Raspberry Dawn brought in a strong 80's new wave synth approach, practically out of the blue. While recognising the audacity, the album didn't click for me...except here, for this one moment, one track, this strange alchemy conjuring a visionary moment of contrasts and sheer joy."
Torpor - Agalma
(from Torpor / Sonance split; Truthseeker; Review)
"It's been a good year for splits in my collection, but this has made it through the year from near the beginning as the greatest - two extremely talented bands from the south with two broad and progressive approaches to doom releasing some of their best work together. This track is Torpor at their best, crushingly heavy, they're not happy to leave it at that, and branch out further after the initial pummeling to wither all in their wake."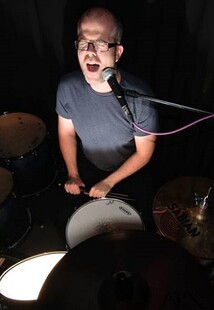 Mike's tracks of the year:
Cult Of Luna & Julie Christmas - Wreck of the S.S Needle
(from Mariner; Indie Recordings; Review)
"If there's a chance anyone saw this record coming this year then they didn't say. Truly astonishing that the two parties here never met until rehearsals for some blistering live dates recently, Christmas and CoL clash here in a highlight from Mariner with use of electronics, huge CoL set-pieces and perhaps Julie's best vocal performance to date. A fan of their music already, her move to record something with Cult Of Luna and see how they felt about it has paid off. The concept of the album is one of space-age isolation and this is like watching supernovas explode with a stellar payoff. Raging and essential, my track of the year by a yardstick."
Oranssi Pazuzu - Vasemman käden hierarkia
(from Värähtelijä; Svart; Review)
"On this rare occasion, an artist has a track in both our lists. Oranssi Pazuzu have been the band I've most talked about this year and with good reason. This album is like dipping your head into motor oil, it's that thickly laid-on. This 17+-minute cut can be taken out of context on its own merits but fits perfectly into the rest of the album like a jigsaw piece. Psychedelic, terrifying and truly mind-bending, it ends as if crashing into a copse of trees, the sample of flames licking at wood at the end serving as a violent snap back into reality after you lose yourself in this most mystifying of tracks."
Venom Prison - Celestial Patricide
(from Animus; Prosthetic Records)
"Venom Prison are one of those bands that just burst into your consciousness and burn an indelible mark. This rip-snorting take off their relentless LP from October just insists on breaking you down. The furious vocals and chugging death metal sounds truly original, a mean feat in such a saturated genre with plenty of peerless oldies reforming on a seemingly constant basis."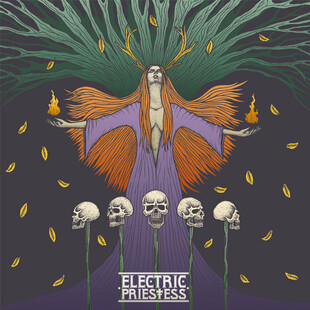 Ultimate Painting - (I've Got The) Sanctioned Blues
(from Green Lanes; Trouble In Mind Records)
"In stark contrast, Liverpool International Festival of Psychedelia this year opened my mind up to what can be considered psyche. Far from the death metal of Venom Prison in the previous entry and even other mind-expanding acts on the festival bill, Ultimate Painting take things back to blues, Beatles-like waves of calm and some clever lyrics. One to put on for a trip to the beach."
Electric Priestess - Give Me A Call When You're Calm
(from Electric Priestess; Self-released; Review)
"Grimsby's Electric Priestess have had a busy year, but their LP must surely be counted as a highlight. Sababth worship for sure, but the hard rock edge they also wear on their sleeves gives ...Calm a swagger that is matched by their live show. Keep an eye on them in 2017, it's bound to be interesting."
The Wiring - Eyes
(from Withdrawal From Continuous Circulation; Shrine Of Our Own Records; Review)
"German duo The Wiring have created a bone-shaking stoner rock and doom masterpiece here and Eyes is the totemic centrepiece. Sure there's a hint of High on Fire/Sleep worship here, but when it's pulled off with this much weight than that can be forgiven. Fan-fucking-tastic!"
The Body - Shelter is Illusory
(from No One Deserves Happiness; Thrill Jockey)
"The Body, or the body as they like to present themselves typographically, threw one hell of a curveball this year. Yes, Chip's vocals still sound like someone being murdered, but there was something to upset the balance here this year too. Clean, operatic vocals and pounding electronic beats poured scorn on the meat and potatoes method of most doom/sludge bands and created something wholly new. This cut surfaced initially as a teaser, but listen to the whole record for something you won't have witnessed before, sludge with intelligence. There, I said it."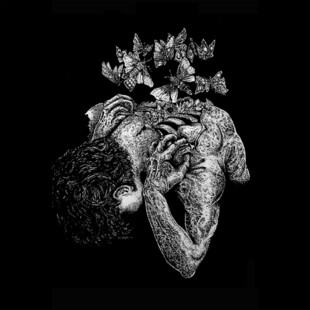 Conjurer - Scorn
(from I; Holy Roar; Review)
"Sandblasting has never sounded so good. These guys blew us away this year with their sheer rage and range. Scorn is one of those tracks that stays with you long after your ears stop ringing. Conjurer are one of the best bands in the UK at the moment. Miss them, miss out."
Colossloth - The Nameless Saint
(from Outstretch Your Hand For The Impress Of Truth; Cold Spring; Review)
"Released in the coldness of winter, this stark record held many intriguing parts, but none more stark than this bleak piece of organic piano and creeping static and noise. Wooly is famous for his almost anti-presence at shows, choosing to bend his form over a bank of pedals and machinery, leaving the music to make its mark. It certainly does here, kind of summing the shitstorm of 2016."
Buffalode - Maybe I'm A Mollusc
(from Buffalode; Self-released; Review)
"It would be remiss of me to miss out one of my favourite local bands in this list. Part Mark E Smith and Les Claypool daftness and the rest a stoner rock, desert-fried stomp, the debut EP from Lincoln's tightest duo has rarely been off my playlist. Least of all Mollusc.. which sounds like a paean to the confused. Like, why did I walk into this room again? Enjoy this oddity, I certainly do."