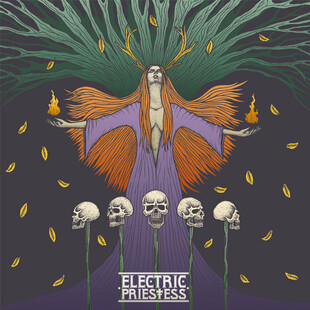 Sometimes bands are just made for the boogie. Now Grimsby might not be the centre of the stoner rock universe, but it has produced one of the most exciting bands we've heard for a while.
When something as cool (we're talking sunglasses, flares and cheap tabs cool here) lands, you can just feel the groove (as Lee Dorrian so famously shrieked in a camp voice on Midnight Mountain).
Electric Priestess have proved an engaging live prospect, but this EP shows just what's going on at another level. The feel here is Sabbath, Leafhound, Witchcraft and a more restrained Cathedral at their most stoner rock, but Electric Priestess kind of spur you on to believe that stoner is far from dead. The wave of bands that sound like Kyuss seems to have slowly dissipated (20 years later) and we're so glad the trend has reverted to Sabbath worship and, shockingly, originality.
Vocalist Danny adopts a monotone, sombre tone for much of the release, but knows when to push it. Witness the delivery on the magnificently grandiose Tear Us Apart which plays on a more psychedelic tip, waves of lucidity flow under the vocals before a solo so retro it positively sheds dust leads the band into a cathartic climax.
While Electric Priestess look back for much of their sound, what they have created here is a reason to listen. Their stories may have been told a million times, but that's what makes them so engaging. New twists and turns ensure your interest remains piqued. This EP's massive sound makes you want to pass up dry January, grab a can and stand, horns thrown aloft at the front of one of their shows.
Cool like this can't be learned, you're just born with it. The title track underlines their love of Sabbath, but also shows a songwriting prowess that's threatening to take over any notions of revisionist boredom. This isn't an exercise in covering old ground, rather taking classic rock ideas into a new, exciting direction. The call to arms of this track's conclusion also sounds rousing and proudly defiant. Just brilliant.
A Grand Tyranny of Magnitude may well be an early contender for 'Most Ridiculous Song Title 2016', but it shows another side to the Priestess. Fast-paced and rampant, it moves at a rate of knots and is a fittingly fantastic solution to what has been somewhat of a wake-up call. They'll be gigging somewhere near you this year I'm sure, catch them and revel in the groove.