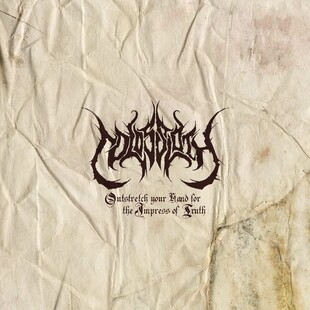 Colossloth is back, seemingly gigging forever, the man also known as Wooly has found time to record a sprawling and intense album. Often found crouched over a black box and wires in darkened venues, Colossloth's sound cannot be easily pinned down.
Some might cite dark, industrial tones as the main influence, crackling static and big crashes, but there's lots going on here that suggests a myriad of influence. The clunk and crash at play here sometimes suggests dub, other sounds the creeping scourge of black metal. Whatever is the inspiration here, Wooly does indeed seem to carve his own path. Science fiction, featuring crumbling dystopias and a population scavenging for electronic scrap comes to mind and the overarching sense of dread is palpable.
Witness the screeching smears on Cave In We Are Complete for example, which could be anything from warning alarms to malfunctioning components on great machines of indiscernible use. Use of sampling and perhaps field recordings mean there's an organic thrust to what can sometimes bring the digital and electronic soundscape genre down. There's bursts here and there of what sound like forgotten TV show themes, or at least ghostly excerpts that suggest a connection to the real world.
The organic link is confirmed on The Nameless Saint which weaves a harsh digital shadow across an elegant and heart-rending piano track. In theory these elements should be at odds with one another, however here it works perfectly, with the piano even pausing to let the various flashes and whisps of feedback and hiss wreak a storm across your mind.
It's not often you find ambience that's this nuanced and engaging, but the layers interlaced here create something monolithic and enticing.