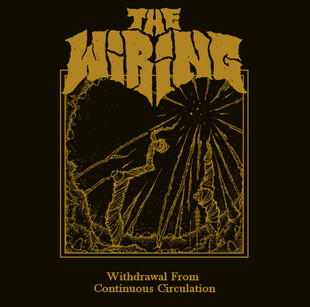 The tale of the two-piece doom band has only got a short history. Around ten years ago there was a surge in the amount of bands utilising a minimal line-up, often combining the drums/guitar or drums/bass lineup to great effect. Often times you can tell when there's just a duo of musicians playing away, but here was something new, with doom's penchant for cranking amps and overpowering with vocals and percussion, bands such as Black Cobra, Bell Witch and early OM made just having two bodies in place sound vital and rounded out.
So to 2016 and a proliferation of them, the editor's own band included, who leave out the hassle of gathering a full band together and make their own way. The Wiring, a rampaging duo from Mainz/Wiesbaden, Germany take that ritualistic setup to its logical conclusion here on Withdrawal From Continuous Circulation. Very much in the style of US stoner rock/doom, the pair Robin (drums/vocals) and Alex (guitar/vocals) drive a heavy set of songs at you at full speed.
That speed is slow and low as you'd expect, but takes tips from early High On Fire and the shamanic elements of the likes of Eagle Twin or the aforementioned OM.
There's a burning intensity here however that you'll struggle to find elsewhere at the moment. It's psychedelic without being lost in itself and it holds the listener's attention far more effectively than anything we've heard in a while. The monolithic approach is perhaps best shown on the bulldozer of a song The Blocking which enters a jarring mid-section full of different textures that burn themselves into your consciousness.
See also, the incredible Eyes, which we're streaming, which goes off like a firework and continues to pulse and draw you in. Robin's vocals here are not only ferocious and guttural, but contain almost anthemic sections you'll be playing over in your head long after the song has finished.
What The Wiring have in spades is a fantastic talent for milking a riff for just the right amount of time. Songs move between sections like a sniper picking off targets. The production also gives prominence to the incredibly varied percussion too. Resting doesn't seem to be a verb that can be applied to their style, so relentlessly inventive it's a powerful behemoth to behold.
Click play on the track below and get ready to be blissed out to oblivion. The album is out on November 25th.