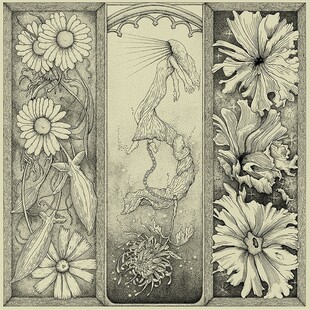 I once saw Cloud Rat play so hard I thought their drummer might actually die. He was so exhausted after every song that he was visibly shaking and seemed to be on the verge of some sort of breathless collapse.
This should give you an idea of how hard CR go. Incredibly fast, dirty and just fucking angry, they tear off chunks of flesh from the first note of Qliphoth and rarely stop for more than a few seconds.
The two immediate and most rabid elements are the drummer and vocalist Madison Marshall, the former a constantly blurring of sticks, the second a fucking banshee. There's something alarming about women in bands who screech as well as this, it's unearthly and demonic, like someone possessed. Live, I can remember her slamming into the crowd, holding the mic like a weapon, here she's similarly in battle mode. Barked sections are balanced with desperate-sounding caterwauling to great effect. You also get the feeling her rage comes from genuinely dark experience.
The album flashes by with a fury, like incendiary bombs falling, each track explodes with all four members of CR flailing at you with fists and sharpened teeth.
Dig a little deeper though and the concept behind Qliphoth becomes ever more clear. An old word from the Hermetic Qabalah, itv represents a dark realm within a philosophy that embraces mysticism and the occult.
The band actually explain it thus; "Technically and sonically, I think we just wanted to create something powerful and relevant, that builds on past works while expanding into new territory [...] Headspace though? Awful hell. Blood, sweat, and tears, literally. The end goal is really just for cathartic therapy, as it's hard to express yourself in public. You can't beat up your boss, you can't stop the clock, etc. So we need this outlet to survive at this point."
With the world slowly leaning right, perhaps outlets like this are needed, the same white-hot rage that Today Is The Day preach as healthy catharsis. Those who keep this kind of frustration buried are the ones you see looking despondently down the camera years later after snapping and going stalking with firearms. Music saves, Cloud Rat are here to administer help.