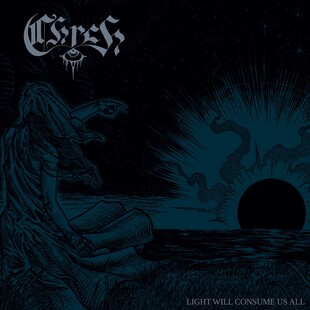 They've had a slight name change since here last reviewed, so now, much like since that vicar caught you in your Cradle of Filth t-shirt in Sunday school, there is no U in Church (sorry). Chrch have grown, notably, and subsequently signed up by the mighty Neurot Recordings.
Three enormous tracks make up Light Will Consume Us All. The aptly named Infinite goes on forever. First up slow, epic, a singular guitar line, a backing of distant drums, the faint spoken word of vocalist Eva Rose. Then, perhaps, it starts to lose me, too ponderous, before a midpoint that shimmers with Neurosis style gravitas. It takes its time but unknowningly drags you in during the stunted crawl, ever increasing in pressure and volume, to the point where the atmosphere has become suffocating, and without realising you're encapsulated. And then it stops, ventilates the room, stripping everything back. It does very little for the next several minutes. It is almost tempting to switch off, to be honest. Yet when interest is generated again, in the finale, it returns in grand doom fashion, an excellent and appropriately massive ending.
Portals contains more oomph at the start, but quickly descends into dread-dripped doom, lurching onwards. It shuffles forward with all the grace, pace and decaying threat of a zombie horde in need of a meal. Again, just as you fear it is treading water and testing patience it subtly changes tack, a venom not seen before added to the vocals, a bite that piques interest, extended into the fuzzed guitar sludge that follows. Black flowers blossom in the darkness during the long path towards its end.
'Aether wins out for me, a Pallbearer vibe casts the mood, reflective and thoughtful, but never morose; a wistful tor top view of the land surveyed. The vocals become raspier, reminding me of the fiercer moments of Dreadnought, all restraint and build, tantalising until eventually releasing into a post/atmospheric black metal last quarter, an input from nowhere of base adrenalin, a glorious surge that has me on the edge of my seat.
They teeter on a line of stretching out their doom so far you wonder if it can ever snap back, but ultimately, on each track, it does, delaying so much as to allow other matters to impede your thoughts, but the eventual contrasts tantalising enough to warrant perseverance. And when it hits, it really bangs hard - the highlights, buried deep and hard earned, are truly worthy.