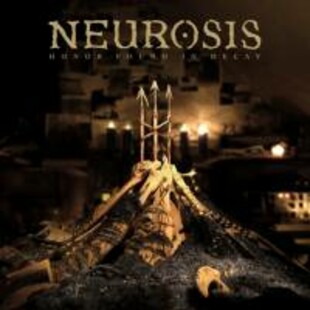 Oh Neurosis, you know how to tease don't you? You bunch of bloody buggers.
Honor Found In Decay is the first proper album since 2007's Given To The Rising and that feels both an age ago and yesterday, unreal. 2012 then sees the band on blistering form, from the opening salvo We All Rage In Gold which has a pacey (for Neurosis) section at the start which gives both Kelly and Von Til the room to expand on their usual spiritual lyrical transgressions. Highlights this time include 'The sun recalls my soul' and 'Death was my first companion, it showed me life and struck it out' which although sounding amazing on the backdrop of some fine electronics and pounding riffs that recall the tribal parts of A Sun That Never Sets it does remind you how po-faced the band can really be.
Right, I'm in Neurosis mode now, my third eye is open and the waves of riff can enter my being.
Seriously though, I thought GTTR was a bit of treading water with no songs that stuck in my mind and I'd kind of written them off, but this has that head-nodding and desperate feel that makes them one of the most unique bands ever. The sound is unmistakably Neurosis and working with Albini again keeps them both grounded and sounding vital.
At The Well broods in the way only Neurosis can brood, the lyrics are elemental and abstract, talk of rage blossoming into iron and feeling like a blind worm can only sound good when delivered in the gravelly throats of these two. The drums sound rolling and fat here too, all slow and march-like and building.
Then the Arabic instrument comes in, sounding for all the world like John Zorn's Naked City for a few moments. It's the moments like this that make Neurosis a band to return to now and again, just epic, like finding an oasis halfway through a desert. The ending delves into repetitive territory lyrically and with the earth-shifting riff but it's what you need. This album kind of proves that Neurosis are both harrowing and a comfort. It's uplifting in its utter contempt and despondency more than anything you'd care to mention. No 'nods to out roots' here, this is just Neurosis.
This may well become a track by track borefest by the way. But how else to tackle a band who seem to compress all their anguish into an hour every four years? How?
So, My Heart For Deliverance sounds like a quieter moment from ASTNS, coupled with electronics, it simply judders in the soil towards you like some kind of mechanised beast, giving way only to wider riffology now and again. This is one that will blow people's minds live, if Josh Graham has any planets blowing up in his endless library of images then this is the song to cue all that up to. Smithereens is a word that does justice to the last four minutes, BAM.
Bleeding The Pigs sounds like steam escaping from a grate, with that wonderful N-tone picking sustained notes over it and a tribal beat growing underneath to begin with. It soon becomes a paean to The Eye of Every Storm and it's quiet to loud interfaces which work so well that I suspect Neurosis have the patent. It builds to a sample and vocal overdub nightmare that spirals out of control frankly. It still sounds incredible though.
The slow-burn of Casting of the Ages has some fantastic lines 'We'll sleep with no dreams tonight/Tomorrow we'll leave as one' will probably give you some biblical visions if you listen to it in a sleep-deprived state, same goes for 'Wisdom is ancient/Our reason bleeds the sun/Fading through the seasons'. Static and electronics overdriven to the point of danger whirl in this vortex and refuse to let you go.
NOTE, THIS IS DAY TWO OF THE REVIEWING PROCESS, THAT'S RIGHT THIS ALBUM TAKES AGES TO DIGEST.
All Is Found...In Time (notice the pointless elipse?) is a rager in the vein of something off one of their early works. Think of that moment when the band first clicked for you, that moment where the earth shook, the mist cleared and you were one with the 'rosis, it's like that. Except you feel even more claustrophobic and scared of what these guys can do. Von Til and Kelly are some of the scariest blokes in metal,up there with Damo from 3 Stages of Pain and Eugene Robinson of Oxbow. They are one of the only bands I listen to and feel a bit wary of their thousand yard stare (and I can't even see them). The only person who has unsettled me more at a gig was Jarboe performing with them in London, she was stabbing everyone through the eyes with mind knives, seriously.
Closer Raise The Dawn sounds like the end of an epic quest, the kind where you're made to carry a single raindrop across a desert using only your hands to protect it or something. It has a burnt, sunstroked vibe to it, lots of circling and heavy synth stuff underneath and squealing guitars to make it a face-melter too. Use of strings gives it an eastern vibe, they've obviously been macking on OM's single-minded slog and this makes for a crushing, atmospheric end.
Just go and buy it on October 29th you fools, it's a new Neurosis album, not a loaf of bread. These only come round every so often, like shooting stars, bathe in its glow.