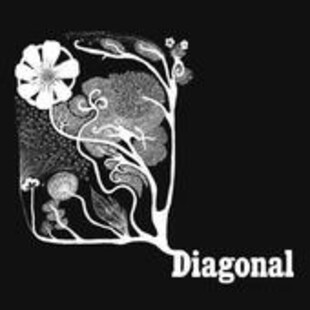 Diagonal are band creating a lot of buzz right now. With gigs lined up with Acid Mother's Temple, Witchcraft, Circle and Gentlemans Pistols, and a freshly inked record deal with the one and only Rise Above, Marek Steven (www.myspace.com/skillwizard) caught up with them.
Hey guys, thanks for doing this interview. Can you tell us a little bit about how and when you guys got together? At school right?
"Well six of us went to the same school in deepest prog-blessed Surrey, from being in an instrumental funk band Luke and I met the four other guys from Farnham who were in the year above us. They started a heavy-space rock band called The Five Sons Of Drona which I ended up joining on the drums which went on for a year or so. After university, and bringing Dan down from Birmingham we relocated to Brighton with the idea of doing Diagonal."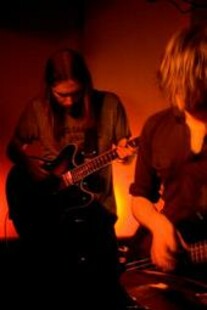 It's a really great name, who came up with it?
"Thanks, we think it's right. It came about when Luke and I, (clearly the most pro-active members of the band) were walking home from the pub - there's a tallish office building on the corner of a road in Farnham with the word Diagonal in big illuminated letters, Luke joked that it sounded like a good name for a jazz-rock band and it stuck. It was either that or 'Luke Foster's Legislation'."
There are a fair few of you. Seven? What kind of influences do you share that feed into Diagonal?
"Well we all had and have a base love for progressive rock, that would certainly be the thing that tied us all together in the early days, but then you've got Glenn on woodwinds who has a leaning towards Krautrock and perhaps more avant-garde things, Dave is folky and maths, Nick loves doom, space rock & Camel, Dan has a vibe for dirty southern rock, Peg certainly explores an electronic noise territory, Luke has his jazz and his film scores, and I would admit to modal jazz tendencies and I'm certainly a stickler for big vocally melodic things in the vein of Todd Rundgren and Journey. However much that sounds like the character synopsis for an incredibly niche late-night sitcom."
It sounds very 70's, are you into that decade generally? It's arguably pretty hip right now.
"I think would be fair to say that more of the music we really all love was made in the late sixties/early seventies - there were just so many high quality bands famous or obscure compared to now. Ultimately when music is good it is good, there are plenty of hot bands around now and we listen to a lot of non-seventies music. I think seventies stuff has always really been popular on the side, its kind of always there as a back-drop to the seemingly constant attempts to re-invent punk and post-punk, I don't think we've noticed if it is beginning to be more fashionable than before, trends will always cycle through various decades."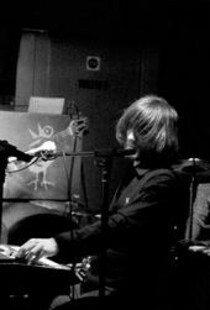 There's some pretty impressive musicianship going on in your stuff, how do you go about crafting tunes?
"As a group of seven frequently impertinent men there's supposedly a lot of ideas to go round, ultimately I guess we try to put together the musical ideas that we might have individually created. Things will sometimes come out of jams & perhaps that's something we want to embrace a bit more as we go on. We usually end up working hard on creating songs from parts that flow well and come together in a well-rounded composition."
You're based in Brighton, not a huge psych scene there I've heard, how do you deal with the lack of a sympathetic scene in your home town?
"Well it's hard to really gauge any scenes in Brighton, certainly there are a lot of gigs in and around the town and its always quite varied. For the most part we receive more gig offers in London, so we haven't actually had many gigs here. You can sometimes hear a wisp of prog coming out of the Great Eastern pub on a
Sunday and there are a couple of new psych club nights, so it seems like the tide is slowly turning."
There seem to be more quality bands in the US and Europe than the UK in the moment, who do you feel companionship in the UK with if anyone? And who abroad?
"I guess there are good bands everywhere if you look hard enough, it's a bit quiet in this country at the moment but there are still people like Chrome Hoof and Circulus. Personally I would say in terms of abroad, two favorite recent releases have been The Stars Of The Lid's and the Wolves in the Throne Room latest albums. I find it appealing to hear bands that have a massive sound, especially nowadays, though we're not really at the holding hands stage with any band, if that's what you mean by companionship."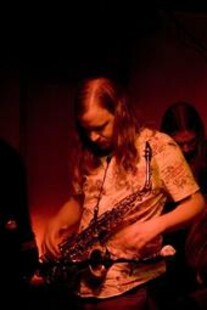 Do you have any sense of a slowly burgeoning quality, young, psych rock scene in the UK?
"I think we get more of a sense of a slowly burgeoning need for something slightly more involved and in depth. Psych and prog may well play a part in that. It seems like musicians are starting to relearn some of the lessons that predate Punk, it feels to us like a lot of interesting things have been overlooked in its wake."
Who has been helpful to you guys so far, any shout outs?
"We've been fortunate in finding a few people around London who have shown an interest in what we're doing. Nikki and Thogdin from Night of the Long Swords have been very kind to us as has everyone at Rise Above Records. "
I thought you were fantasic live. What kind of people are coming to your lives shows so far? Who can people expect if they come to see you?
"We try to leave space for improvisation in most of our songs, so we rarely play things exactly as they sound on recording. This definitely keeps us on our toes and hopefully makes for a more interesting live experience. As for who comes to see us, its hard to say, we like to think its a healthy cross section of the record buying public. I like to think that even people who wouldn't normally listen to a band like us would get something out of it. Our audience doesn't seem to be confined to 45 year old Geography lecturers looking for the new Genesis and the obligatory swathes of beautiful jazz-rock-lovin' women."
How was playing Tapestry festival in the summer? Did you see any other decent bands while you where there?
"It was a great introduction to playing festivals. For anyone who hasn't been, it's a festival with a medieval theme with a more intimate feeling than the bigger events. There were loads of great bands. Chrome Hoof's headlining slot was particularly impressive."
Rise Above are a cool label and they seem to be into you guys, which is great, what's your current situation with labels, tours and releases?
"We were lucky enough to have met Lee Dorian from Rise Above at one of our shows, they've shown a healthy interest in what we're doing and, all being well, we will be recording our debut album for them some time in December. As far as touring is concerned, we hope to play as much as possible in the coming year. Getting seven of us to the right venue at the right time is always a challenge so if anyone has a van they wish to lend us, or sell us at an impossibly low price, get in touch."
What broad plans do you have for Diagonal? What dreams?
"The best thing about playing the kind of music we play is that it affords us the opportunity to go in any where we want musically. The idea is to keep moving in an interesting direction and see where that takes us. I guess the dreams for most bands are obvious; full wardrobe arena tours. But be able to play and make music full-time is probably the next step. "
Look out for shows and debut releases from Diagonal.