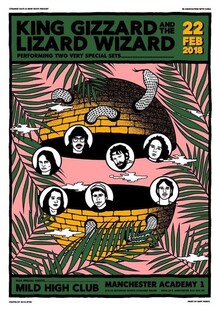 King Gizzard and the Lizard Wizard – Manchester Academy, 22nd February
Five totally incredible albums out last year meant expectations were high for this show. Finding the Academy full of a much younger crowd than you'd expect for a proggy juggernaut such as this Aussie bunch however was a pleasant surprise. Two sets, one more jazz-tinged and relaxed, followed by a rip-roaring metallic and psychedelic set showed just how incredible this band's output is. Drawing on all five records out in 2017 as well as the previous year's Nonagon Infinity it was a sharp, spiky intro to a year of music. You can't help but wonder what next year might hold.
Julie's Haircut, Rocket 20, London The Garage, 9th March
Rocket Recordings reached 20 years as a label this year. Always a label close to our hearts, they celebrated with a weekender at The Garage. I could only make the opening night, but among other highlights, including the always impressive Flowers Must Die, were Italians Julie's Haircut. Truly psychedelic and trippy, their brand of neo-psyche and hippy vibes created a party-like atmosphere for the evening and with some truly tripped-out visuals being projected, was also a colourful feast for the eyes.
Groak, Dreadfest, Leeds Temple of Boom, 24th March
Groak are perhaps the best band in Leeds. Or the UK, depending on when you ask me. Having seen them three times this year, their blend of blunt grindcore and crushing doom sections makes them an absolute pleasure to experience every time. It all kind of centres on the drums, but honestly, it's like a grenade going off whenever they take to the stage. Notable appearances at Stuck on a Name in Nottingham and at a very sweaty Doomlines in Sheffield should also be mentioned. Finger blasts and claws come out in equal measure, often seconds apart. What other band can make you do that?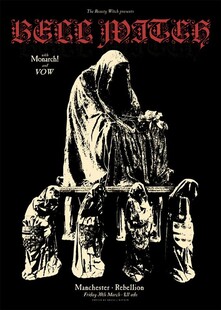 Bell Witch, Manchester Rebellion, 30th March
An overcrowded show with excellent supports in Monarch! and Vow meant Bell Witch were welcomed onstage by a crowd that was very much ready, but nothing could have prepared me for the beautiful Mirror Reaper album played in full. Not much to look at, Bell Witch instead chose to weave their narrative around the 2017 record, arching the keys, deep doom crashes and sombre beauty over 80+ minutes. Truly a marvel to witness live.
Terminal Cheesecake, Birmingham Supersonic Festival, 24th June
Supersonic is always an incredible experience, but it's often the unknown elements that stick out the most. Terminal Cheesecake were one of these instances. Playing uncompromising psyche-rock at ear-splitting volumes as the sun set on a packed Saturday meant these veterans truly enjoyed a hero's welcome. There's not much more to add, they simply flattened the crowd and should be held up as national treasures.
Mol, ArcTanGent Festival, 18th August
With Jord kicking off 2018 with an astonishing sound, these Danes were on my list of bands to see all year. Witnessing them bringing dry ice and thousand-yard stares to a sunny festival afternoon was unexpected but incredible. The songs flew as if granted the power of flight and their aggressive, yet measured sound worked perfectly. Their fire alarm-interrupted set at Damnation Festival later in the year was as good despite the delays, watch out for their return next year, it's sure to be ferocious.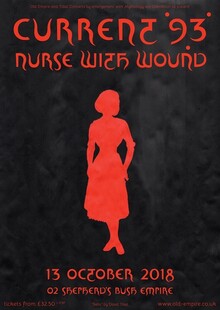 Current 93, London Shepherd's Bush Empire, 13th October
Perhaps the least ninehertz-esque band on this list, Current93's influence among metalheads has been well documented, but even this was dark for David Tibet and co. Their latest album, which deals with some personal grief for Tibet, translated even better live. Haunting, truly odd and with some incredible live visuals, it hit everyone there with a huge emotional barrage, slowly built and without pause, it was a lesson in pastoral and dark, gothic musicality while maintaining a British undertone with talk of milkmen, farmers, fragmented speech patterns and a sense of the local.
Blind Monarch – Nottingham Stuck On A Name, 5th October
They appear elsewhere on Pete's top ten gigs too, but the moment they truly clicked for me was this bleak Friday night in Nottingham. A lack of crowd, but a fantastic no-holds-barred performance convinced me that this style of doom is alive and well. The unrelenting sturm und drang of their churning riffs, combined with the creative and crushing drumming make them a fascinating watch anyway. Add those varied screaming/chanted vocals on top and you have a killer combination. They look set to drop new material soon, so be sure to be on the lookout for that. They're also touring with fellow Sheffield titans Kurokuma early 2019, so look them up live too.
Napalm Death – Damnation Festival, 3rd November
It may seem obvious to many but Napalm Death are simply amazing. It's been a fair few years since I saw them last but honestly, I was not prepared for how perfect their performance was. For a bunch of fellas approaching their autumn years they still stomp like teenagers. Thinking about it while watching, it's incredible to think this lineup are nothing to do with the original scrappy, chaotic demo-quality albums the band started as, rather than are a unit that have seen through more than a few decades and have transformed into essentially a grindcore-tight hardcore band. Their interpretations of the classics like Siege of Power and Suffer The Children sound rabid and slot in perfectly alongside modern material like Narcoleptic. I honestly couldn't stop watching.
Pigs Pigs Pigs Pigs Pigs Pigs Pigs, Sheffield Picturehouse Social, 22nd November
One of the most meteoric rises of a psychedelic band recently witnessed, Pigs Pigs Pigs Pigs Pigs Pigs Pigs have become BBC Radio 6Music darlings this year and with good reason. Their blend of Sabbath worship with a David Yow sexual sleaze element mean they have a louche swagger live. Songs like Thumbsucker thrill with their plodding, yet seedy manner and apart from topless frontman Matt Baty the rest of the band stay motionless and let the volume do the talking. The damp and claustrophobic area they played at Sheffield's Picturehouse Social provided the perfect surroundings for their filth. They also impressed at ArcTanGent Festival in the hot summer, their sweaty riffola suiting the muggy, close heat. They are touring with Part Chimp in the new year, be there.