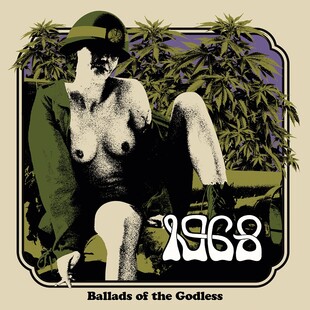 In my review notes against each track on my first run through there jump out words that repeat and crossover, that sum 1968 rather well - a stoner sense of cool, self assured, ease, flow. It is through simple and honest rhythym, played well, that have marked them out for a while now as more than the sum of their influences.
On the surface, there is a shallow pool of input that isn't too far varied from, but then this doesn't capture the 1968 listening experience, which inherently detaches itself from cynicism and over-scrutiny. And that's because of two reasons, the first being that when they get it right it does flow, it does roll through like a warm desert breeze, and secondly because they get it right most of the time.
Ballads of the Godless continues on the path followed by last year's Fortuna Havana, an album now over an EP but largely the same formula, the live sounding recordings thankfully keeping that raw feel. It is a transcription of a voyage through the generations, beginning in the year of their name, through classic rock of the 70s, via Seattle of the early 90s; to later in the decade and into the next, Californian desert on down to Southern states and across to Scandinavian stoner rock. Yet the only cliched downside to be found is the out-of-date terrible album cover.
Screaming Sun follows the path, each passage different, offering dynamic and shade, The Hunted gives false Weezer impressions with its "woo ooh" lyric opening, giving over to a grungey Spiritual Beggars toned trunk, while Devilswine moves along grandly and at its own pace, relaxed in its own simple excellence.
Chemtrail Blues is evidence they don't get everything right, aiming for a fuzzy trip out but the foggy air generated merely clouds, unfocussed and a bit messy. But even this is quickly forgotten, followed by McQueen, attempting a similar formula but with much greater results, toe tapping ease, blowing up into bright stoner colours, soaring thereafter, truly a-flight in the engorging glorious final couple of minutes.
Again I reach the end of a new 1968 experience feeling like I've not heard anything particularly new, yet instinctively never being worried by that fact. It's all in the tunes, and 1968 have plenty.