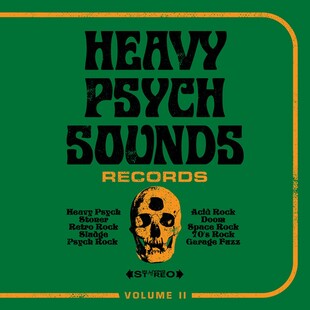 Label compilations used to be commonplace, a chance to showcase the full roster, to encourage fans of the genre, or of one particular band to expand their knowledge of their perhaps lesser known label mates and garner wider attention for the label's full range of releases. The ease of availability of music through the internet - bandcamp and Soundcloud in particular - has largely removed the need for these, but when they do appear they provide a nice blast to the past, even if nothing else.
Heavy Psych are increasingly becoming the label hub for stoner rock and affiliate genres on the continent, releasing albums from both previously unknown acts and more established names at an impressive rate over the recent years. Here's a track by track run down of their second such 'sampler' comp...
1 - 5... It is opened by the ever vibrant Black Rainbows with an exclusive track. They continue to ply stoner rock as if it's the late 90s, as ever still sounding great doing it. Here it reminds me of sHeavy's Ozzyisms in riff and vocal, a good start. Spaniards Cachemira are the first new name to me, and they impress, a 70s loose groove, bluesy power trio-isms and unashamed soloing, a little like a raw form Kadavar. I've already reviewed the album from which Dead Witches' Mind Funeral comes from, disparagingly at that, Mark Greening and Psychedelic Witchcraft's Virginia Monti's pairing never living up to the potential that should bring, but at least here their best track is chosen, proto-doom with a great second half. Doctor Cyclops blend the older strains of doom of Witchfinder General or Cathedral with nods to the NWOBHM, and of Iron Maiden's first couple of albums in particular. It's a recipe that falls outside of my areas of comfort, but can't deny that I enjoy this a fair bit. Texans Duel's Witchbanger starts off in a fairly 70's proto-metal generic fashion, but gets better as it goes on.
6 - 10... Farflung should be known to any psych-obsessive, and this track from their forthcoming Heavy Psych release Unwound Celluloid Frown is the Americans at their best, a concoction of Krautrock, deep space effects and stoner rock akin to the early output of Monster Magnet. The indefatigable Fatso Jetson sound as desert-fried as ever, inevitably raising memories of QOTSA and the Desert Sessions to the uninitiated, but they are more than their influenced - happy jazzy rhythms always marking them out as a good time listen, Wire Wheels and Robots here perfectly proving so. Milan's Giobia are space/psych rock with astronomical sampling supplementing their experimentation, nothing new, but decent enough. Glitter Wizard's mix of prog, glam, Deep Purple and old heavy metal influences is another that for some reason should annoy me, but I can't deny I enjoy, a bit like a less-doom Groan. Killer Boogie follow and another band where the name will give you a good guess of what's to follow. Despite the slight cringe that might induce, it is pretty damn good stoner meets retro rock, Gentlemans Pistols meets Groundhogs or Budgie perhaps.
11 - 15... Nick Oliveri is obviously a stand out name here, Anything and Everything from his Heavy Psych compilation released earlier in the year a showcase of his acoustic solo work. The Clamps offer trashy stoner punk, somewhere between Electric Frankenstein and The Hellacopters, without being as exciting as that sounds. The Freeks are similar punk n roll, nothing bad but quickly forgettable. The Golden Grass' classy slice of Blue Cheer light psych is a timely change for the comp, only a notch heavier above ''whimsical' settings. The Sonic Dawn release their Into the Long Night album next month and their submission here will lead many to await that date, summer of love daydreaming psych from the Netherlands leading the album out peacefully.
Sounds from across the stoner/retro palette, yet still amounting to several shades of the same colour, there are fluctuations in quality or interest, but then that is to be expected, and anyone caring to drop in will take their own pick n mix selection to take away. And that's what these comps should do, give you sight of new noises, a list of new bands to go forth and check out their albums in more depth - I've certainly got my such list as a result. Ultimately, it demonstrates the great work of Heavy Psych Sounds Records - not merely propping up a flagging scene but highlighting and promoting bands who still have plenty to offer within the stoner rock genre.