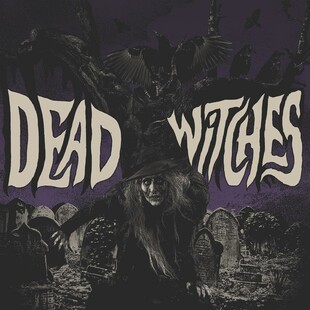 A Heavy Psych Records released occult-obsessed doom album from a new band featuring Mark Greening (of Electric Wizard, Ramesses and With the Dead history, need it be said) and Virginia Monti of Psychedelic Witchcraft on vocals you say? Why yes, that is a press blurb more appetising than usual.
The scene is set with the Intro, the simple set up accompanied by the sound of falling rain, a mournful tone creating a suspense as it builds towards the first song proper. That comes with Dead, Monti's vocals set against slow groove doom instantly placing this in amongst the bracket of female fronted proto doom of recent years. It plods along on a basic riff, hitting the right notes... but it's all a bit flat, and unimaginative. The vocals are great, but slightly distant, as if transmitted through a radio lying in the grasses of a graveyard. The song makes it up a little as the guitar shines towards the end, but not much.
Unfortunately, despite several attempts to engage with it, there's little of note from then on either, nothing to warm the doom soul. The title track has a vague Witchcult Today vibe, but dulls off quickly. It's all a bit formulaic, with little depth or expansion on established ideas. The occult theme - one which Greening has a creditable history within - is hammily applied, from the song titles to naff artwork.
There are brief flashes of inspiration, that wake you from the frustration - the opening of Drawing Down the Moon for example, a distracting layered guitar lending a difference to the norm, or the second half of Mind Funeral, my favourite passage, a touch of SubRosa grand deftness applied, not simply sticking to the same plan, the same riff.
Yet these highs are brief, even within the tracks themselves, and when you're left grasping to part-tracks, there's something up. Ouija is, sadly to report, a disappointment. This has been done before, and done better.