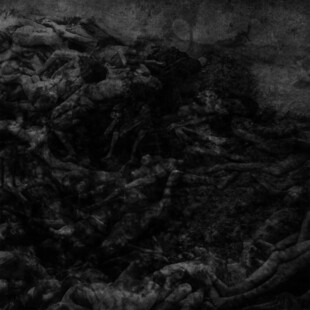 The return of two of North America's most electrifying prospects from the darkened underground, together on this 12", is cause for excitement. While operating from distinctively differing grime infested corners, both have previous in releasing blackened blasts of intensity promising much for the future. And here we arrive.
Montreal's Dark Circles releases to date have been mini masterpieces of squalid hardcore annihilation, and they raise the bar further here. The black metal tinge is more prominent, the opening Ashen a whirlwind maelstrom of speed and aggro, yet hinting at the uplift of modern post-black or the screamo-black of Bosse De Nage. They do this whilst preserving the throttle of their hardcore base, all of this magnificence bottled into an explosive 96 seconds. Void and Isolate follow in suit, style and quality, before ending with a surprising cinematic sci-fi soundtrack Epilogue..., an interesting angle, intentionally or not seguing well across to the grander outpourings of their split partners, an atmospheric palette cleanser between courses.
Abstracter, from Oakland, have released vast imaginations of scorched extremeties for a few years now, harnassing an ability to drag even the most dispirited mood across epic journeys. Their twenty minute allotment is unsurprisingly cultivated across only two tracks. Barathrum is a monumental showcase of their accumulation of the sounds of desperation - post-metal, bleakest doom and, as with Dark Circles, a slightly more prevalent black metal nod than previous. Where All Pain Converges matches, ensuring there's not even the hint of a weak point in a single groove of this vinyl. They've never sounded better.
Dark Circles provide the thrilling adrenaline rush, a triumphant, glorious burst of malicious intent, while Abstracter counter, slowing matters, bringing you down, crushing you within the depths of the isolated quagmire of sludgey murk manifested. They were already on the rise, but this split serves notice on both bands' unimpedable ascension.