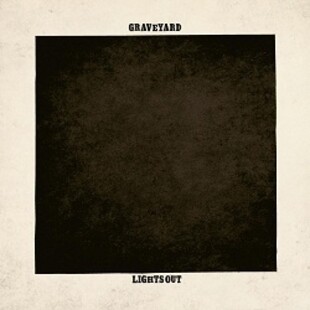 Ever heard of Norrsken? Formed in Örebro, they existed for a short period in the mid-late 90s, putting out a couple of demos and contributing tracks to Pentagram and Trouble cover albums. So far, so what, but the bands subsequently formed from the four members tell a more intersting story - guitarist Magnus started Witchcraft while bassist Rikard Edlund and vocalist Joakim Nilsson went on to form Graveyard, thus providing the world with two of the leading exponents of retro doom rock. (Add in that the drummer formed the excellent Meteor City-signed Dead Man, and that Joakim's brother is the vocalist in the fuzz rockers Asteroid, and that's one hell of a melting pot of talent).
And here we are, reaping the benefits - blessed, as a few weeks after Witchcraft's latest release appears comes Graveyard's new album, Lights Out. Like Legend, this is less immediate than its predecessors but is another fine slice of 70's reverie. Graveyard have a rock n roll flair allied to their doom musings, yet Lights Out has frequent melancholic moments of introspection and depth. Second track Slow Motion Countdown is a fine example - an outstanding slow pacer that demands multiple plays as its beauty washes over you. For all the fun they engender, Graveyard do serious very well.
Not that it's short on the boogie and swagger that was the lifeblood of the masterful Hisingen Blues. Endless Night is an obvious choice for the single release - Graveyard-typical, sing along chorus and toe tappingly infectious. Goliath is great, with a fuzzy psych blues sheen married to captivating almost anti-capitalist lyrics: "The world is full of snakes, Whispering in your ear, A stream of seducing words from a cloven tongue"
There a couple of songs with not enough going on to pique the interest, and that along with the previously mentioned reduced immediacy means Lights Out doesn't match the overall heights of Hisingen Blues. But to mark a band against its own high water mark feels unfair, especially when we're dealing with another fantastic collection of songs from an increasingly special band. Blessed indeed.