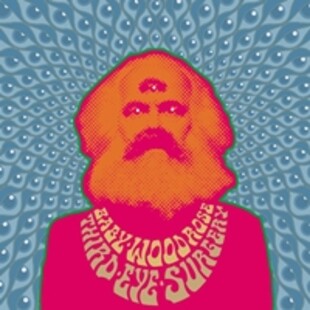 Baby Woodrose are a three piece psychedelic rock outfit from Denmark, once an offshoot of Denmark's landmark acid drenched garage rock pioneers On Trial through guitarist/main songwriter Lorenzo Woodrose and now his full time musical outlet.
Third Eye Surgery is the band's eighth studio album and opening track Down to the Bottom immediately submerges the listener in a warm layered psychedelic wash of wailing guitars, organs and slick bass. When the vocals kick in you'd swear that this was a long lost Monster Magnet demo, thrown out with the bong when they were recording Powertrip in a cloud of cocaine. Like Monster Magnet Woodrose' influences are deep seated in 1960s garage and psych; bands like the 13th Floor Elevators, The Fuzztones and the Sonics were compulsory listening for Lorenzo and his Woodrose cohorts and it shows in the album's production. The sound of the record is very much shaped on the sounds of the past although Third Eye Surgery offers a crispness that gives away it's youth whilst liberating each intrument into it's own plain of sonic rambling. Along with each song, sitars and shifting percussion resonate and pulse, adding to the thickness and breadth of sounds on offer, acting as the glue which binds the melodies and hooks to be found on each track.
Far from being a collection of jams and wandering musical improvisation Third Eye Surgery is a selection of songs which radiate like waves and squalls under the high sun, each one with it's own meaning and direction just apparent through the glittering surface movements.
To summarise there's not really much in the way of big riffs or technical posing on show but if you like your music like lasagna; layered, warm, tasty and with a little bit of cheese on top then this is for you.