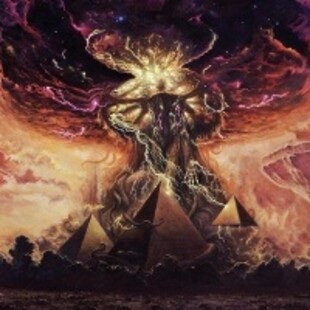 Firstly, a mention must be made of this record's (on the LP version at least) astonishing artwork by Nick Keller. Full use has been made of the format with an incredible series of lusciously painted fantasy landscapes not seen since the halcyon days of 70s prog. Top marks!
Musically, this awesome slab of wax kicks in with an opening riff reminiscent of The Sword, which from the artwork I more or less expected. But New Zealand's Beastwars soon reveal themselves to be an altogether different, erm, beast, dealing as they do in lead-heavy psyche-dirges driven by drawling Matt Pike-esque vocals. There's a certain heavy blues element amid the dirty (scratch that - FILTHY) bass and bulldozer drums, but the riffs too often stray into Melvins-y discordant technicality for things to sound that pedestrian.
Lumbering their way along like a sludgier, but no less drugged-out Electric Wizard, the likes of 'Lake Of Fire' and the down-tempo 'Call Out The Dead' are crushing reminders of what can still be done within the loose confines of the old 'stoner' genre.
Cracking stuff and definitely ones to watch.