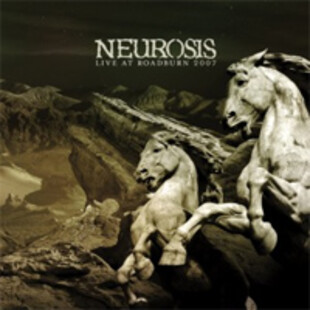 This is a nice record to own, not just because I was at the gig in question, but just the fact this is a Neurosis fan's dream.
Captured at the end of the festival (as festival headliners that year, they have since curated it) this shows Neurosis firing on all cylinders to a crowd that couldn't be more welcoming. The venue, 013, is a steep, stepped affair, excellent for both views and sound and it really shows up here. Cheers also greet every song, old or new.
The sound is incredible, crashing rampantly during the crushing heaviness of a band that have already proved their live presence for years. The setlist is also packed with enough to keep any era of Neurosis fan happy, from the recent ghostly stuff (from Eye Of Every Storm) to the classic (The Doorway from Times Of Grace).
What hits you is the atmosphere during the more restrained parts, the quietly strummed guitar and the softness of the vocals combine live to create tension before every inevitable jaw-dropping crescendo.
This release does exactly what it says on the tin, but could make you see some of these songs in a new light, so fervently are they played.
I'm including a tracklist in this to illustrate how wide-ranging the set was:
Given To The Rising
Burn
A Season In The Sky
At The End Of The Road
Crawl Back In
Distill
Water Is Not Enough
Left To Wander
The Doorway