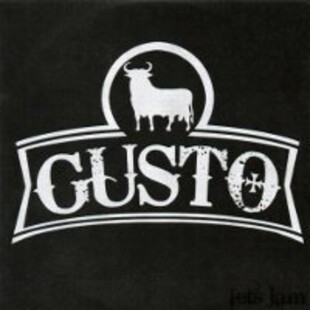 Short and sweet 3 track taster CD from Gusto, who are made up of 3 world weary souls in the stoner/desert call it what you will scene; Mike Neider (Blast,LAB), Dave Dinsmore (LAB,Unida, Ché) & Alfredo Hernandez (Kyuss, Qotsa, Ché, Yawning Man, etc).
Admittedly, the tracks that are featured on this CD "Dealership", "Don't Bleed & "Smart Monkey" are on Gusto's myspace player so can be listened to at your leisure, but since getting this CD, its 12 minutes fit snugly into my drive to work and have been stuck there solid for more than a week now!
Having two thirds of Che in Gusto there is that kinda feel to the tracks, straight ahead non clichéd or gimmicky rock, think Unida, Ché, Fu Manchu – thick meaty riffs aplenty!
"Dealership" kicks proceedings off with a thick Fu Manchu – ish riff, definitely more forceful than the laidback Ché, it has all the hallmarks of power trio goodness, solid drumming from Alfredo (when is this ever not the case…?), searing leads and a nice bass rumble underneath. What more do you need?
"Don't Bleed" further reinforces the unashamed riffing but it's the final track "Smart Monkey" that explodes out of your speakers, sparked off by a thunderous drum intro and more tasty riffs and with a telling line in the lyrics "got nothing man, nothing to prove!". They may be old hands at this game but for sheer passion, vigour and straight up rock this CD reminds me of first getting hooked on the likes of Fu Manchu, etc.
With their debut album due just around the corner in November, will be looking forward to more riff heavy good time rock! Let's jam indeed!