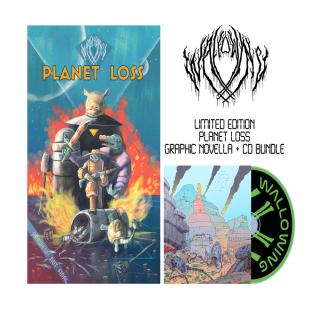 When it comes to concepts, full commitment is the only way. You can have a theme or a style to your band, but to really live that truth, you've got to place yourself front and centre to make an impact, just ask the sci-fi surf rock masters Man Or Astroman? who played gigs complete with blinking and bleeping analogue computer junk everywhere while playing songs about supercomputers, or the full costume horror of the likes of GWAR.
Wallowing, as we've already discussed with the band, are a band intent on sharing their allegory of a planet intent on wasting its natural resources through a bleak but intriguing sci-fi filter. The band's masterful debut, 2019's Planet Loss is a quaking, sludge-laden beast of a record which if you haven't heard by now, go and investigate. The band's insistence on playing shows dressed as beekeepers has launched them further into the concept, adding an air of mystery to their already overwhelming sound.
Last year, a collaboration with Delicious Again Peter provided the world with a limited run of their own 'Wobblenaut' action figures, complete with blister packs and card art. This, coupled with some interesting promotion, including a phone number which fans or 'recruits' had to call to get 'instructions' on how to obtain limited merchandise brought back the idea of exclusive fan club or street team-esque exclusivity and has been a thing to behold.
Ratcheting up the concept even more, Wallowing have just released another limited item, wringing even more out of the Planet Loss concept in the form of a graphic novella.
Produced by Luke Oram, the same artist that gave their album the fantastic cover art a unique slant and brought the wobblenaut and dystopian planet setting a visual aid originally, the novella is an absolute triumph.
Following the narrative of the record and using lyrical excerpts from the six meandering tunes on offer, the novella is split into chapters that chart the fall and further fall of the society that the band have created and given life to on record in a much more literal and vivid way.
Oram's album artwork was the junk paperback covers of the 70s and 80s, possibly inspired by B-Movies and kitsch, however for the novella, a much more conceptual and unique style has been adopted. The cover depicts a cast of characters explored and expanded inside in a painted style, thick daubings of colour with a muted palette give an idea of the contents within.
Once inside, the 40+ page novella is of a much more line-based affair, stylistically it fits the concept, characters are given clear precedence against a vivid set of backdrops that bring Wallowing's depressing and totalitarian vision to life. Colours are somehow both bright and faded with a dull hue, which gives credence to a once-proud society that has let its glory deteriorate.
Frames are accompanied by the main protagonist's inner monologue, abstractly describing a revolutionary rising against a wasteful governing power (sound familiar?) and this detached, monotone voice is a perfect accompaniment to the story unfolding.
The central character, one of the fabled wobblenauts, is shown in states of realisation, frustration and ultimately, action. I'll not spoil the plot, but crocodile-like creatures, pig soldiers and a host of blown-out cityscapes are your reward should you be able to pick this up.
Best consumed alongside whatever medium of Planet Loss you own, be it on vinyl, cassette or digital versions, this is how you pull off a concept, with quality, a singular vision and a determination to realise something ambitious. Most bands will never scrape as much as this together in a lifetime, Wallowing have done this in a few short years. Sign up for the ride now, Wallowing's craft is ready for lift-off and there's limited seats on board.