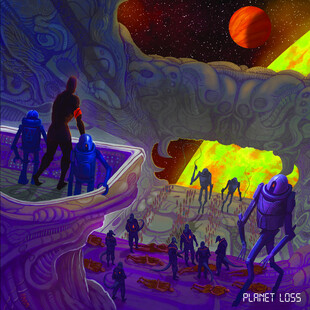 If you've never come across the heavy gloop of Wallowing before, then prepare for some of the most inventive, strange and weirdly hypnotic metal that's emerged in the last few years. With their own take on chaotic sludge and death metal, they have become one of the UK underground's most talked-about acts, and it's not just because of those beekeeper outfits and lasers they favour onstage. We caught up with Tom and Rauri from the band as they plan their next chapter in the Wollowing saga...
We're big fans here of Wallowing and your whole concept. The beekeeper outfits, the lasers, the sci-fi art. Did you start the band with the intention of this level of detail to a theme? How is it going to progress?
T: Wallowing was always intended to be a means of free emotional and creative expression without being held back by genre or style. We never set out to have a theme as such, but knew we didn't want to do anything by half measure.
A lot of our ideas come from being driven to push ourselves into new territories musically and creatively, and feel as though we don't need to limit ourselves to simply 'just music'. Of course PLANET LOSS was created to tell a story, so we mutually felt a need to tell that story as best as we could, by incorporating sci-fi elements into our stage show, online presence and digestible media, expressing the story through as many creative mediums as possible to get the story across as best we could.
We consider ourselves a pretty progressive band by nature, so we wont be slowing down on any of our ideas. If anything, we intend to build upon them further. We definitely feel as though we have set the bar high, but intend to raise further with each thing we release.
R: Tom already had a pretty solid foundation of the whole concept for Wallowing and Planet loss by the time I jumped in. I think the wonderful thing is that we all identified with the world he started to create and the vision he had, it quickly exploded into what it is today. The 'wobble-verse' as we call it pretty much demanded we give it the time, energy, details and in a weird way the lore it deserves to make the story as compelling as possible.
You've made some pretty bold statements with your packaging and conceptual artwork already. Does anything inspire you with this? Bands, artists or individuals perhaps?
T: Being honest, it mostly spawns from boredom and maybe even slight obsession. I work a crappy job and do minimal hours so I can fill my time with the projects I love. Without crazy ideas to fill my brain when I am working my day job, or in between practices I think I would honestly lose my mind. Personally, I know a lot of my time goes into thinking 'whats next' and then planning for it, which is only amplified by the rest of the band as we are lucky to all be so involved with different creative areas (Jon works in game design, Mark works at a photography store and tinkers with graphic design all day long, Rauiri is a photoshop wiz and photographer).
We are fortunate in the sense that whenever we have a ridiculous idea, at least one of us has a reasonable clue as to how to go about bringing it into reality, which makes the possibilities pretty endless for us.
We of course, take a huge influence from 70s & 80s nostalgia which spawned through initial talks of the band being like Rush steeped in Extreme Metal. Early progressive bands such as Yes and Camel definitely inspired us to go all out in terms of our musical output.
R: Tom hit the nail on the head with this. We all have such varied interests and ideas. We created a band culture of mad ideas that are still possible and more importantly great ideas. I really feel we all have a real say in what we want to do and everyone is just so up for anything the possibilities are really as endless as our silliness. The reaction to the space tape was probably a huge factor, I love that almost retro-futurism. It looked like it could have been right at home on the set of an 80s sci-fi classic. So many people said how great it looked, it definitely spurred us on.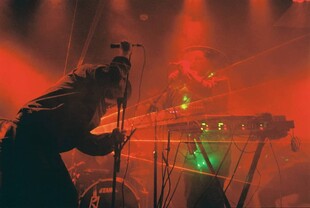 Your music is a churn of so many influences, did you expect it to take off as it has?
T: The foundations of Wallowing were laid back in 2016, initially as what was thought was to be a solo project, and a way for me to play the music I liked without limitation or a clash of minds. Basically a way for me to riff out all the music I like without having to compromise on vision, or being tied into a specific genre (hence the lack of a need to hold back, and the varying styles throughout our debut record), but it dawned upon me pretty quickly that the music I was trying to create needed many more heads than my own.
I was fortunate enough to find a shared collective vision within Mark, Rauiri, Jon and Zak and we could build upon the initial ideas I initially had tenfold. Wallowing truly became its own unique thing once all of us put our minds together to create music that wasn't bound by genre or anyones specific taste.
R: All I can say is I never expected to see people all over react and support us the way they have. One thing that has really helped keep me sane in this bizarre mind fuck of a time is merch orders. Having people as far a field as Europe, the US and Australia making orders blows my mind and humbles me. Massive thanks to everyone who has put orders in recently, it really has helped us to do some of the weird shit we come up with and gave me something to do.
The beekeeper outfits are fantastic, but what made you pick those in particular?
R: I'm pretty sure it started as a joke at a practice because Jon wanted to name an old project's b-side record "Who Let The Bees Out" which they were pretty against. We found it hilarious and somehow the joke morphed into playing shows in beekeeper suits. Again we found this hilarious and I think the next day we were on our way to Plymouth for a show and Jon pipes up from the back of the mothership saying "Are we doing bee suits or what?" and I think the general reaction was a resounding fuck yea why ain't we ordered that shit yet? Haha.
T: I was one of those stupid ideas that was intended as a joke, but for some obscure reason it really resonated with people. We debuted it (ironically) at a venue called The Bees Mouth and was intended as a one-off joke, but it intrigued people to such an extent that we felt we should keep it up for the promotion of the record. Since then it has turned into somewhat of a staple. We played an event in Nottingham once where we performed without them and the promoter came up to us after the set and said 'no bee suits?' in a rather distressed manner which made us laugh as much as it made us feel guilty, but we try to limit the amount we do it to some extent, to keep it special and also to stop us falling into 'gimmick band' territory.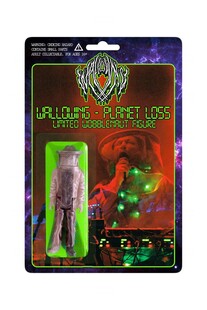 You're currently putting together a limited set of your own 'Wobblenaut' figurines with Peter Clark, how did that collaboration come about?
T: We are always looking out for ways to build upon the lore of Planet Loss. With 70s and 80s nostalgia playing a huge role in the record, the theming and its promotion, plus the influence of early prog bands such as Rush and Camel playing their part on the album (believe it or not) - when I stumbled across Peter Clark (Delicious Again Peter) on Instagram it was kind of love at first sight.
In the usual Wallowing manner, I forwarded his page over to the band and mentioned how amazing it would be to commission a short run based on our stage show. Without even getting a response from them I knew it was something we would all be blown away by and messaged Pete who was surprisingly keen to get involved.
Another one of our "Wouldn't it be crazy if…" ideas that actually became a reality. We feel it slips right into our aesthetic with his Kenner-inspired approach to art and figure making. Everything he creates looks like it's been stolen from the shelf of some kid in the 80s where its been pressed up against a stack of 2000 AD comics and the original Luke Skywalker toy.
R: Once again, this is a testament to how committed we are to bonkers ideas, Tom posted some pictures of the kit-bashing badass that is Peter Clark's work to the group chat and I immediately had the Kenner-era of Star Wars vibe. Being a giant man-child it hit me right in the nostalgia buttons and was so up for it instantly. I just thought about being young in the local comic shop and seeing classic retro toys on the walls whilst flicking through Alien comics to add to my collection. It had to happen.
The narrative you've created with the whole Wobblenaut/space theme seems to be developing, can you hint at where it might be heading? The artwork you've shared from collaborating with Luke Oram is amazing, what brought that together?
R: I dunno if I can say where we're going with it right now but me and Tom started on another mad idea we thought would be a cool little accompanying thing to add to the whole narrative and world building vibe.
The collaboration with Luke was a no brainer really as he has done a fair bit of artwork for us like the vinyl sleeve for Planet Loss, he's an incredible artist with a very identifiable style. In keeping with the themes and visual tone of what we have so far we asked if he wanted to get more involved. I really can't wait to see and share the end result needless to say I'm stoked on everything so far.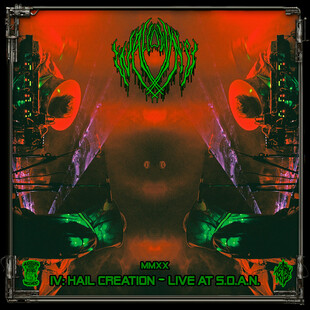 You recently donated the proceeds from an exclusive live track to the NHS. Since then bands have followed suit, dropping cash along with Bandcamp to causes like Black Lives Matter, do you feel it's your duty to step in? What else can bands do?
T: I think that if you are lucky enough to have a platform (no matter how big or small) to communicate with people, it's important that you use it. We are all unfortunately living through some pretty awful stuff currently, and feel as though if anyone is in a position to make life better for other people, they should. We are lucky to be in a scene surrounded by compassionate and selfless people, and it's great to see so many bands being willing and able to fundraise for these causes be it through raffles, new music or live streamed events.
I think the possibilities are endless to fundraising and raising awareness if you are willing to get a bit creative with it. Its also important for bands to be sincere whilst doing this - theres nothing worse than a band exploiting world events for their own gain, or seeming as though they are getting involved for the wrong reasons - if you are going to be selling merch or releasing music in aid of these causes you have to be honest and translucent with your intentions, whilst being educated on what you are supporting in order to properly represent DIY music and what it stands for.
R: So this hit pretty close to home for me working for an NHS service. It's pretty appalling how the last ten years has seen an insidious strangulation of a service thats so essential to our way of life. Nurses practically laughed at for asking for fair wages, underfunding and cuts, a lack of basic protective equipment for frontline healthcare workers and a man nearly at his centenary birthday walking miles to raise money for it.
That doesn't sound like a national service fairly supported by a government that cares for its citizens.
Platform or not, it's clear community and solidarity with these types of causes is needed now more than ever. The amount of bands raising awareness, supporting these causes and the reaction from listeners warms the cynical cockles of my heart.
As we are less likely to see live music happen any time soon, have you got any plans for the rest of the year?
R: I don't want to ruin any surprises but we do have some plans for the rest of the year. Its easy to think this year is a write-off for live shows but I really implore people to support artists, musicians, media outlets like yourself and when they do open; venues!
We definitely need to come together as a scene and I've seen so much positivity and comradeship despite the times we find ourselves in. I'm sure we all truly hope we can see you all soon through the sweaty mesh of our suits.
T: This year has really tested artists to think on their feet. Its great to see people innovating in various capacities to get around this. The Kurokuma and Friendship Live-stream was a great way to allow fans to watch the sets they missed out seeing live due to the tour cancellation, and the work The Black Heart and Hotel Radio are doing to run and promote Live-stream Events out of The Black Heart is a great example of people thinking on their feet to keep music (and venues) alive.
We have been lucky as a band to keep up momentum to the best of our ability throughout lock-down and certainly have a good few more tricks up our sleeve for the rest of the year which we hope people enjoy, and we look forward to sharing in due course.
Live photography by Natasha Edgington.
Check out Wallowing on Bandcamp and Facebook.
Visit Luke Oram's website here: https://www.lukeoram.com
Check out the Delicious Again Peter shop here: https://www.deliciousagainpeter.com/