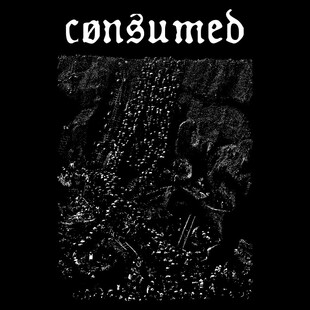 Consumed announce themselves violently, Australians with an unhealthy decaying dirge.
This is blackened hardcore misery. They get quick with the generation of an overcast encompassing atmosphere, and by second track encase you within. It is blistering, Hexis level darkness.
The songs fly past, battering you around, without respite. I can point to Sick (ii) for a divergence in tempo, slower than before, but with the same threat, a menace stalking from within your own shadow as opposed to an in your face affront of elsewhere, but ultimately this is heads down belligerence throughout.
It's never a bad thing, except for helping me pad this review out - I could cover it with "it's grim" and "it's killer" and thesaurus assisted variables, but even still there's not too much more to say.
I'll highlight Crutch, whereby a whirring rhythm-disturbing chaos creates a nightmare claustrophobic tightness in the experience, wonderfully so.
And I'll leave there, with nothing more than strong recommendation that you experience this for yourself, with all appropriate self-preservation safety notices in force.