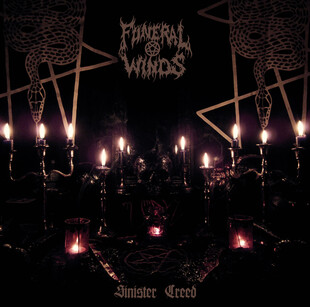 Smell the earth and smoke, the primal spirit of black metal appears to be back in the shape of grimm duo Funeral Winds. Apparently coming together for their fourth album in 27 years (!) this is as fine-tuned as an old jalopy and sounds like it's pinned together with crooked nails and beer-soaked enthusiasm.
The drums clatter along like a horse out of time with its cart, but that's where the sheer joy of this comes to the fore. The ambivalent attitude to timing and production means you have a rip-roaring, devilishly fun record. Ten years after their last full-length and aeons since the sole founding member Hellchrist Zul released a demo in 92, this is in the same vein as early Enslaved, Mayhem and the like. Lyrical screechings invoke the moon, death and sorrow. A holiday to hell if you will.
The multi-tracked guitars do break the ramshackle spell now and again, pealing off into flabby solos and crushing the listener with every note. It's nothing you've not heard before but it certainly makes an impression. Far from bedroom-level musings and cringeworthy, this is the real deal.
Tracks here don't so much finish as run out of steam and abruptly fade out as if reaching an imaginary finishing line. It's heartening to know that even these days, black metal can remain this effortlessly brutal and engaging. Hellchrist's pet project may not be prolific or productive very often but man is the fury and fire contained worth the wait. Take a listen if you're sick of triggered drums, polished ProTools guitars or any kind of restraint.
Bleught!