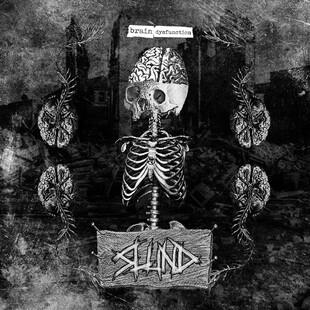 In the same calendar year as their debut, the truly excellent The Call to Agony, Slovenia's Slund impressively turn out a new batch of fourteen tracks just in time for the festive period's happy mood and family times.
Joke as they do in referring to themselves as uplifting chill out music, in their promotion, song titles and lyrics ("Slund is relaxing, smooth and easy listening", from the smartly titled Smooth Jazz Radio Stations Won't Play My Music), this is ugly blasts of grind and sludge, bringing to mind Mistress in the amalgamation of the two, on more than one occasion.
Brain Dysfunction is made up of short tracks - a minute or so - and shorter, with three under ten seconds. Of the latter, all are surprisingly engaging, shoveling enough dirt, spit and fire in to be more than novelty. There is little you won't have heard before, whether in the sludgier riff or the crust belligerence, but the whole package of Slund, and simply the quality and consistency makes this less important than you'd think.
Lyrically, it is engrossing. As well as the self deprecation, there's comedy to be found at the expense of Steven Seagal on Sensei ("also, check the footage of him running, there is something disturbing about it, but in a funny way"). Yet aside from the japery, there is a social awareness elsewhere - anti-consumerist messages (Pay to Suffer; Haha, You Spend Your Time on Social Media), and repeated calls to highlight and address mental health issues. You can lose yourself in the lyric sheets while the grimed assault batters your eardrums.
All of which - the gorgeously grotesque attack, the riffs, the moments of levity and their intriguing conscience - furthers Slund's appeal. Here's looking forward to their next three albums in 2018, and in the mean time, here's the perfect stocking filler for granny.