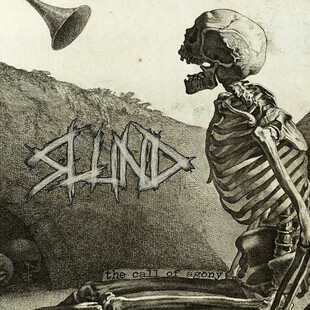 This is something you can fall into all too easily, the full on assault and fusion of extremities instantly appealing so that by the time you break the spell and realise it may be too late the jaws around your ankles snap shut, biting into your flesh, trapped and at Slund's mercy. Not that you'd fear any malpractice from their self-descriptions, tracks introduced as "smooth jazz inspired by the beauty of nature" or "Christmas songs for the whole family", at odds with the metal-generic artwork.
It doesn't take long for this to be confirmed as not the subtlest of ruse, Resentment, the first of thirteen tracks launching abruptly into a grinding hardcore front, but this merely points to a band with a welcome sense of humour. After a grind splurge on the second track, 8 Minutes presents a grim sludge face, trampling the undergrowth with muddied boots, then thrashing grind, the median pace slow, the contrasts illuminating, the culmination truly excellent. The two minutes covering the next two tracks flip between messy grind and doped sludge.
Five tracks done and you're left in need of air and water, and the seven and a half minutes of Disdain offer hope of respite. Far from it. Just as you have Slund pegged as fast sludge/slow grind, they throw this desolate Graves at Sea levels of deprived doom at you, another angle of attack to outflank your defences, a step closer to your surrender. A mixture of samples, beserking cluster bombs of guitar and guttural sludge define Falling Apart, while the sub-minute siren of Narcissism A.D. is simple and effective, female laughter samples applying an eeriness.
it doesn't let up - Mental Disorder's bouncing riff, the harsh drumbeat led grind of Sickness, the great sludge riff of Agony. It closes with six minutes of pissed off doom, six minutes that never travel far but beat you round the head with repetition.
Thirteen tracks may not be much for grindcore, but the song lengths aren't Agoraphobic Nosebleed in brevity, accumulatively clocking in around forty minutes. And what's great is that, almost uniquely for a debut as long, it not once dips in energy or quality. You sense they could keep going for days without water or food, ripping away at your eardrums, your well being, your sense of self, until you're a pool of mess on a Slovenian gig venue floor jibbering to the walls. Throat rippingly unrefined, The Call of Agony is an infectious concoction of sludge and grind, one that is perversely a lot of fun, and definitely something special.