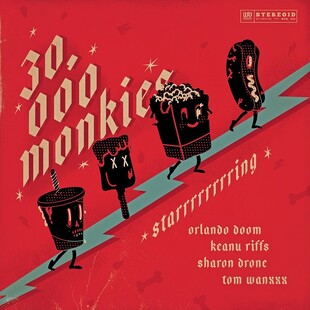 Like a paint mixing machine, 30,000 Monkies frenziedly merge and blend chemical elements into a sloppy whole, Melvins-styled sludge and indie noise rock shook together until a unique palette is exposed, all overseen by some Belgian dudes with a slight crazy glint in their eyes as they smile ever so menacingly.
This is a four track release, all with daft titles riffing on actor names. Apparently they were working titles of songs from their last release, the disturbed but excellent I Ate Myself to Grow Twice as Big, but they felt it didn't do it justice, but here they've obviously thought... fuck it.
Track one, Orlando Doom. Listen to the track before you see it on YouTube, if you can. So mesmerised by the quality of the video you undoubtedly will be you'll miss the track itself. And that would be a shame as it is pretty damn good. It's taken me a few listens through sans visuals to truly appreciate. Some spacey effects linger in the doom atmosphere, it is increasingly heavy and bleak, like Ghold or even pushing toward (although never reaching) Primitive Man ends of darkness.
Keanu Riffs - build up / strange period suspense / enraged emotional eruption. Very post-metal when put like that, perhaps that's correct, but it feels left of centre from that norm and is gripping throughout. Sharon Drone is two minutes of unusual instruments and effects as windchimes clink by.
Final track, Tom Wanxxx. Remember Tom Hanks' Cast Away? And his companion, the footie named Wilson? Well 30,000 Monkies do too, this whole song dedicated to that very ball, the name screamed over and over, with nought else, for thirty five seconds. There's another video too, to marvel at - whereas previous the vid is a distraction, here it somehow adds to the spirit of the song, a man in a Hanks mask reprising Apollo 13 and Forrest Gump by playing table tennis in space, of course.
It's like they had the opening track written, but had no patience to save it for a later album, so bundled together a few others, be they sample driven or silly concepts, and pooed out a record. For anyone else, I'd be cynical; for 30,000 Monkies, I agree with the business model - their need to create and to experiment is what makes them so much fun. That lighthearted appeal can often mask how heavy they can be, but that is easily resolved through repeat plays that it demands.