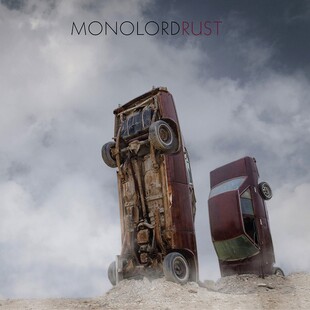 Where now for Monolord? Neatly fitting in between the cavernous doom of the behemoths of the scene - primarily Sleep and Electric Wizard - and a hint of a more retro/proto doom rock styling, they found themselves a cosy little semi-niche for a couple of albums, one that rightly brought them a fair few fans. Yet now there is a sense that they need to move on, clear away all debris and truly claim the land as their own, free from naggingly obvious reminders.
With that in mind, the start of Rust is disappointingly flat. Where Death Meets the Sea brings reminders of many bands, latter day The Sword, Alunah... I could go on, but the problem is it is all a bit doom by numbers. It sounds mightily impressive, oomph in the delivery, but it does very little. Dear Lucifer then plods along slowly, which can be fine for our genre, but here it is all a bit dull. It reaches almost funeral pace but without the grimness to associate with that end of the sound. A third of the tracks down and I'm not feeling it.
The title track is thankfully better, much more about it, from the nice organ intro onwards. It stills lacks a totally unique identity, but with readjusted expectations it matters less at this point. Wormland is next, a bit of a nothingness of instrumentalism over six minutes. There's a whole heap of doom tropes to enamour you to the elongated Forgotten Lands, a drugged pace that drags you through the dirt behind it, darkened fuzz guitars that shroud a devilment, yet, like can be found on every album so far, this is Monolord's now standard one track Electric Wizard homage. It is good, just not as good as those it apes, and ultimately pointless.
It's left to the fifteen minutes plus of Atniceae to save the day, and thankfully it tries its damnest. Heavy, lurching riffs echo some well known Wizard-isms, but less directly, dedicating you to the full length of the track. It gets even better, an atmosphere of dread, a touch of drama in the notes from the nine minutes mark, before an acoustic send off to warp the track further. This is the Monolord my personal tastes hoped for.
I wrote the intro paragraph as I waited for the promo to begin, not in retrospect, betraying a concern about Rust before I'd heard it, hoping they'd prove me wrong and stand proudly aloft at the end, kings of their realm, the great hopes they promised the could become. But sadly my doubts proved true. That said - this is an incredibly critical review for what is a not bad, nay good doom album - just measured against their next-big-thing status, and my hopes, it falls way short.