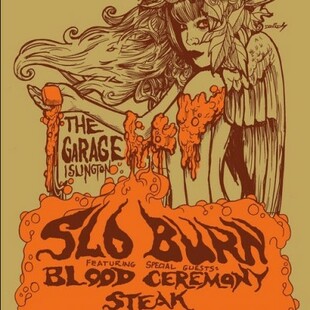 On what could've been the hottest day of the year, we travelled to that London to see what John Garcia has been doing since Kyuss Lives! and Vista Chino slowed down.
We sat on the M6 for what felt like days before arriving in London, dumping the car which we managed to miraculously do FOR FREE and hazily strolling to the Garage.
Due to traffic and somewhat disinterest, we missed Steak, an obvious choice for an opener having had Garcia guest on one of their albums, so I believe. Either way, I'm sure they were good, stoner rock by numbers, I did overhear someone refer to them as a poor man's Orange Goblin whilst buying an expensive can of Red Stripe, which I did find quite apt having listened to them a bit online.
Anyway, after cracking open this refreshing soft drink, Blood Ceremony just belted out their opener. Now, having seen Blood Ceremony back in 2009 supporting Electric Wizard in Birmingham, I am happy to report that they have gone from strength to strength with their own brand of witchy-cult-doom-rock.
There's an authenticity to this band which hasn't ever been bettered in my opinion, the vocal, presence and musicianship in Alia O'Brien is just fucking killer, she's hypnotising to watch, she just commands eyeballs and ears like some sort of badass witch.
Riffs flowed perfectly in the first two songs until the JCM 800 Marshall gave up, likely due to heat exhaustion in the venue, you could smell the sweat flowing from every pore in that room, it was fucking electric.
Blood Ceremony continued, once the tech's sorted the amp issue, with a set that incorporated endless riffs, endless grooves all peppered with flute and synth that puts this band in a league of their own.
If you've not heard or experienced this band, get on it.
One downside to this was their merch, I needed to buy a new Blood Ceremony shirt due to 'lending' mine to a brother...it has been confirmed that I won't be seeing it again and to be fair he makes it look better than me. So, to the merch stall, the band wanted £20 for a shirt...I mean, lads (and lady) I get that you're in London but £20?! When did this happen?! £15 is enough for any bands shirt.
Anyway, I bought it, they can have my money, it's a banging shirt.
Then came the time to witness Slo Burn, they graced the stage with Garcia looking fucking fierce as always, the played the majority of Amusing The Amazing and even lashed in a Karma To Burn cover, which I personally thought was an odd choice, Garcia left the stage during this, god knows why.
I often wonder why bands do this, having done it myself, it is literally suicide for a band's set, like what does a singer do when the band goes instrumental for 5 minutes? I mean, years ago, they'd be off bashing groupies and hoovering up rails of coke off the back of an amp or something during a 20 minute interlude, but what did Garcia do in his 5 minutes? Answers on a postcard.
The set they played besides the ill-chosen cover was played perfectly, they all seemed very relaxed onstage which was good for them but made me feel as if I was watching a band that were literally at work, which, is all good but did kind of feel that they were just going through the motions.
Is this the case for all legends? I mean we all love Kyuss and to see the honourable John Garcia is always welcome but is anyone bold enough to tell him that Slo Burn needs to be more of occasion than just a case of
"'What band should I bring back to earn a few dollars?"
That said, they sounded pretty thick and heavy which is exactly what this gig needed.
All in all, a good show, Blood Ceremony fully took the night for me and many others though, blown amp or not.