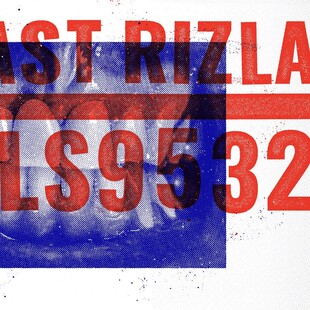 Last Rizla last came across our radar in 2014, with our review of their Seamen album, an instrumental concoction of post metal and doom. KLS9532 may only be a 10" of only two tracks, but is an advancement on what was already a solid base, startling in their development.
The centre point of that change is that they now have a singer (Stavros, also of Sadhus). It's hard to say how much this addition has been the catalyst that changed their sound, or whether a shift in gear necessitated vocals, but this sounds almost like a different band - so much so that, despite the distinct name I double check this is still the very same Greek group of Seamen past. And while I enjoyed them before, this is something else.
The title track creeps forward for three minutes, before the vocals enter simultaneously alongside post-metal air and a stomping riff. The impressive vocals are of a gravel sludge screech, lending a darker planed surface to Last Rizla's dynamic. The track gets better the longer it goes, the riff slowing and repeating, the fine stench of doom filling the nostrils, the last minute filled with chaotic guitar exuberance, backed by a hammering home through sludge abandon.
KLS9531 | 01.30AM 040 Reprise is a different beast; brooding atmospherics, with a vague industrial element, it never gains momentum, instead content to steadily gather menace, layered harsh vocal and noise clouding out the sky. It has a feel of the build towards an eruptive Amenra type destructive explosion, but exists perfectly without the release, akin to the grandeur of Jesu.
A decent band already, Last Rizla have stepped up. The boldness, the vibrant positive change points to a band worthy of a wider audience, and the variety displayed across just two tracks projects artists with plenty more in the tank. The next full length will be something to behold.