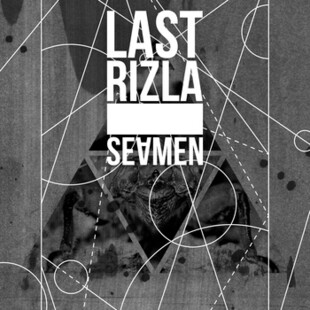 Last Rizla are a three piece from Athens, playing instrumental music that invokes the adored and dreaded in equal measure prefix "post" - although never losing themselves wholly to the post-rock black hole of self-importance, Seamen does still blossom at intervals nicely, shade and light and all that.
This is especially true of the first of the triumvirate of tracks, the excellent He Who Talks Loud Saying Nothing, which sits on the edge of doom instrumentalism, ushering in welcome warm fuzzy reminders of Capricorns, and with a title that makes me wonder if it's a clever way of describing the vocal-less band, or perhaps just named after one of the extras from Dancing With Wolves, who knows.
Τσιμέντο (which is an amazingly written word but translates rather prosaically to cement, apparently) aims for creation of tension through repetition in the riff, but lacks the requisite nuance or plain appeal of said riff to work and is a bit of a comedown. As the Sun is Masked is much better, owing to having more about it, building a psychedelic post metal sound layer by layer, bold, a less intense Amenra evident in its architecture.
This is a likeable, satisfying release - the song length (all between 7 and 13 minutes) a blessing in its allowance of the opening and closing songs room to develop; the restricted number of tracks making this an easily accessible access point, post prefix or not, to a previously unknown band, worthy of your attention.