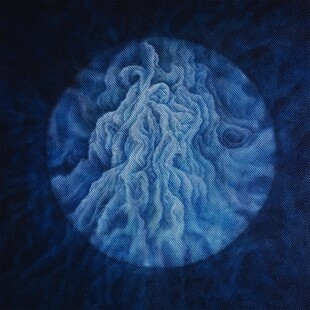 A split of grind and sludge, of two highly respected bands, of Michigan's Cloud Rat and Nottingham's Moloch, a transatlantic partnership that marks a friendship from previous tours together. Cloud Rat have grown into the status of 'essential' over the last few years, consistently brilliant, while Moloch have been plying their mean spirited sludge to the benefit of us here in the UK for many years now.
Cloud Rat take the A side with seven tracks, and set off like a box of fireworks and a loose flame. Sueno is grind sure enough, but feverishly eclectic, multifaceted, even emotional at times. They pack an amazing range, an open compass of multi-directional ideas into a mere two minutes. There is a sense of the disturbed and esoteric approach of Today is the Day, as seen during Clench or the great Baby Sling / Balloon Born, the latter exertive to start, yet slowing towards the end, masterful in creation. There's a faint black metal undercurrent to Biting Air, while they close with a left field turn to electronic ambiance on Amber Flush, Cloud Rat constantly and admirably destroying any thought to limitations on their expectant scope.
A twelve minute track and deep doom guitar tone tells you you've reached Moloch's contribution. The riff that arrives early in The Ninth Wave / Bloody North is suitably slow and heavy, a misanthropy darkening all around, Moloch's dedication over the last decade to this ceaseless sludge misery undiminished. It decelerates further, Primitive Man-like splurges and depressing samples descending the character further down the well. Lead contains an opening charged with electricity, controlled by the drum beat, vocals and guitars erupting around and instructed by it. The tension accumulates, breaking as a full band attack a minute or so from the end, an enthralling conclusion.
Splits sometimes merely host album leftovers, covers, or other half-hearted versions of the bands involved. Not an inch of it here. If this was released as two individual EPs both would be immediately essential. Cloud Rat prove once again why they're possibly the most interesting grind band around, anywhere, and Moloch do what they do best, each time impossibly darker and heavier than the last, true again here.