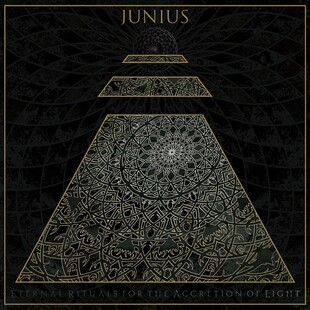 Junius are back with their 3rd proper full length album (their first self titled album was the 2 EPs Forcing Out the Silence and Blood is Bright stuck together and isn't counted) and find themselves down to just 2 full time members following the departure of guitarist Michael Repasch-Nieves and general inability to hold down a regular bassist. Repasch-Nieves' guitar work on previous album Reports From the Threshold of Death was oddly missing despite his presence and the album missed the mark for me, having an over reliance on huge wall of sound guitars and little in the way of the harmonic elements he brought to previous releases. The band as a whole were thankfully on top form for their 2014 Days of the Fallen Sun EP but noting his absence in the promotional material here was a cause for concern. Would this album suffer from being played almost entirely by one musician (Joseph E Martinez, assisted on drums by Dana Filloon) or would the sonic gaps be filled in?
Good news; everything is fine. Martinez takes everything that worked before and uses it generously without feeling held back by wondering how it's going to be replicated live, stacking synth parts and guitar lines with multiple layers of vocals with little restraint. It occasionally feels like you're being distracted from the fact the composition of the songs can feel a little simplistic at times, for example with the largely acoustic Masquerade in Veils which is built mostly around 2 repeating guitar chords and a lot of extra elements dropping in and out over the top to add interest. It's exceptionally well done and of course it'll be a personal matter how much of an issue this is with you but I suspect I'll be skipping this track before too long.
Overall, we're in familiar ground here for the most part. Huge slabs of guitar underpinning everything, synth choirs, tom heavy drums and of course Martinez's 80's new romantic influenced vocals, now richer sounding than ever and more a forward element of the sound. Fortunately the band push the limits of their sound throughout the album without abandoning what I've come to like about them over the years. The Queen's Constellation contains the most obvious and traditional use of synths the band have done to date between it's opening arpeggios and middle 8 breakdown, while Telepaths and Pyramids experiments with eastern scales for it's dying final third, a theme continued in the short and snappy Heresy of the Free Spirit. Clean the Beast ups the tempo and adds some rare screamed vocals and atonal guitars over it's standard steamroller sound, although it's spoiled slightly by someone on social media saying it bears a resemblance to Wishmaster by Nightwish as I now can't unhear that. Cheers.
Album closer Black Sarcophagus builds on a simple starting guitar pattern with a background of drones and strings, sounding for all the world like the soundtrack to a post apocalyptic story set in Victorian England before hitting the distortion for a confident stride to the finish. While it would have been nice to have somthing like A Mourning Eulogy from 2nd album The Martyrdom of a Catastrophist somewhere in there, a song beautiful in how restrained it is by the band's standards, the album as a whole still works fantastically well. It's just missing the extra dynamic something like that song would have added to really open up the record.
It's been fascinating watching the band evolve from their roots where they wore their influences very obviously on their sleeves to being very much their own beast. Eternal Rituals... feels very much like the obvious next step for them. They've succeeded in making an album long time fans will love exploring as well as being a great entry record for new listeners.