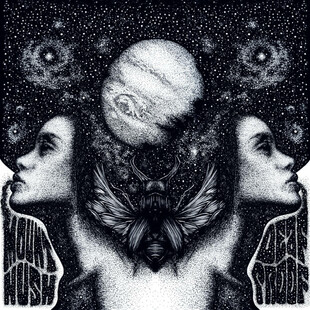 After a tumultuous 2016 and easing ourselves into this year, it's only right to start with some cool, laid-back psyche right? The world sometimes turns too fast so placing stuff like this on sometimes slows things down a shade. If you think you've been moving like a turbine lately, slip into paddle steamer mode here with two bands who know how to draw out a psyche groove like you wouldn't believe.
Originally part of a kickstarter to produce this on vinyl, these two bands decided to make this release happen digitally off their own backs in December. There's a lot to like. Openers Mount Hush take a Hammond organ sound and jam around it, all blacklights and Grateful Dead LPs strewn here and there. Their track takes subtle twists and turns and while not doing much new, floats gently in places and wigs out suitably crazily in others. Genuinely warming music and one that would surely benefit from a lakeside view and a glorious sunrise as accompaniment.
The vocals are suitably impassioned too, wailing over the spacey jams with lyrics about witches and women, so cliche it hurts, but who cares when it plays out like this?
There's even some woodwind at play here. Mate, pass me the windchimes I want to join in.
More modern sounding and a bit more dark are their collaborators Deaf Proof. A Nick Cave-style vocalist occasionally pitches in with a stark and alarmingly cool style but for the most part they are a hip-shaking, groove-laden beast that edges you closer to the stoner rock abyss you've been wanting to fall into for ages. It's truly head-nodding stuff, not unlike Nebula if they fuzzed up a little more. Its times like this that you wonder why you don't listen to this kind of spreadeagled stuff more often. Stoner rock is still alive, its corpse is being animated by cool cats like Deaf Proof. Among the dreck there's nuggets of awesome like this.