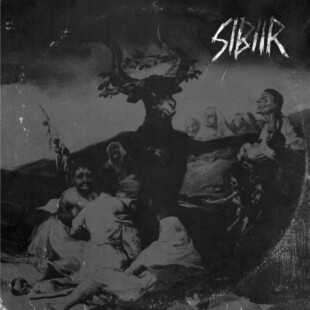 I've held high hopes for this album, since Norway's Sibiir signposted their potential with last year's two track demo release. This self titled release justifies that anticipation.
This is an album bursting with life, transmitting out to energise as you listen. Grown from hardcore roots, Sibiir's branches spread wide, metal riffs and blackened edges all to be found in the foliage. A benchmark is established immediately, Bekmörke flowering spectacularly, base Cursed comparisons there, but with their own imprint as the track develops. The following These Rats We Deny, also on the demo, serve as a fantastic reminder of why that was so loved - for all the multi-faceted, cross-genred skill and appeal track long, it is the undeniably catchy and wonderful opening and closing riffage that'll have you back again and again.
There are changes in tack that keep things fresh, The Spiral slowing things down to interesting effect and Erase and Adapt's ferocious and impassioned calling in amongst a blatantly Remission-era Mastodon riff. But the stock delivery is black-tipped hardcore - Beat Them to Death an immensely satisfying mid-point between Birds In Row and Trap Them, with death metal vocals; Guillotines' post/black metal influx creating a positive vibe, reminders of Celeste and their kin.
Sibiir is one of those albums that's hard to pull away from, the energy, the focus and the subtle variations as other genre inferences blend in, all pool to make this engrossing. Its consistency is also key - even the lesser tracks here are good. Put simply, this is an excellent release, one which should elevate them alongside their European peers within the darker realms of hardcore. Sibiir have delivered on their promise.