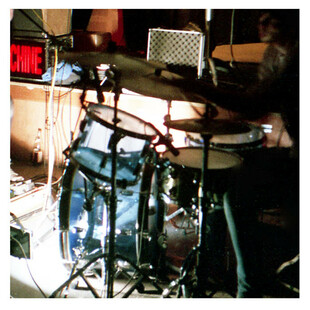 Hammers were a great band, just uncompromising and dark. Prolific too.
Sadly it's been a while since they called it a day, but Nick (drums/vocals) and Sacha (guitar/vocals) have since formed the similarly strange and endearing Big Machine. I saw these guys play a matinee gig in the dark on a bright Saturday at DIY Space for London earlier in the year and was suitably impressed. Big riffs, short songs seemed to be the order of the day and this record (their second, they have a 7" too) follows a similarly brief tack.
Chaotic and technical at the same time, the guitar spirals out of control on a regular basis, with the drums mirroring this wild abandon with deadly accuracy. The vocals veer between outright screams and more melodic, soaring sections, sometimes the pair of them crossing over in a euro screamo style. It's all over in about 10 or so minutes but you feel as if you've taken a somewhat bumpy journey with them.
Several of the tunes flow into the other, and you can be sure that this is the case live too. It's heartening to hear two members of a great band carrying on with that creative link. They talk of there being two many two-pieces with not enough ideas. Bollocks, stick on Bigger Machine and hear living proof against that.