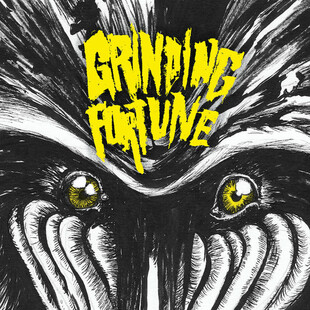 Absolute frustration and nihilism, that's what comes as a stark first impression of the fearsome Grinding Fortune. In a Today Is The Day lyrical approach, this Norwegian unit are unhappy and want to let you know. The music has more in common with a more rough-hewn Norma Jean or late 90s hardcore (Drowingman or Botch at a stretch?).
It's all rather heart on sleeve, and although it does come across slightly naive and earnest, it hits the spot. When vocalist Daniel spits out lines like 'We are not a peaceful race/We're predators' you kind of understand where they are coming from. This, combined with a crushing and powerful guitar tone, methodical percussion and a production that seems to be designed to scratch at the ears, makes for a pretty terrifying release.
There's even some genre-defying breaks thrown in there, see the start of Sudoku, which chops itself in two, part grindcore-informed staccato stabs, part posi-harcore style, all jumbled up, it makes perfect sense.
The lyrics deserve more of a spotlight too, 'For 28 years I've been a coward/ Now I'm absurd', being a particular cracker.
If you fancy a spot of misanthropy and gloom, here's your first stop. The overarching feeling is one of bleak desperation, the screeched vocals are in perfect synchronicity with the blunt and forced music on offer as accompaniment. It's not quite at the utter self-loathing levels you get with bands like Dystopia or Cursed, but it comes very close.
Just don't use it on a daily commute, it should really come with a health warning.