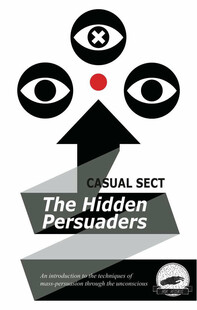 Casual Sect introduced themselves to me as being a mix between Germs, Whitehouse and Half Man Half Biscuit. That's pretty much bang on.
Imagine if I left the review there? Well to be honest, listen to their attention deficit for yourselves. The Hidden Persuaders enters the party like it owns the place and proceeds to leave skidmarks up walls, upend tables and writes rude things inside all your favourite books.
Essentially a three-piece noise rock unit, what sets these people apart from a million others is (at a guess) the electronic scree courtesy of Robbie Judkins, otherwise known as Left Hand Cuts Off The Right, he can often be found making dark, massy noises solo, or collaborating with other noise artists on varying levels of experimentation.
All band members are listed here as providing noise though, which I can believe, it's like hearing a band play over several battered TVs, all blasting out different kinds of analogue and digital dross.
The songs underneath burn like spilled battery acid, overdriven vocals mean singer Maggie doesn't so much sound tuneful, rather driving, hectoring, insistent.
It's all brash, loud and yet has a palpable tongue in cheek. Some of the riffs sound like nods to old punk bands and even Sabbath at times (Fungazi) but there's also the Icke samples and shlocky song titles that suggest a bunch of mates just having a fucking blast.
You'll struggle not to raise a smile during this 17-minute party, in fact if you aren't crushing beer cans on your head or falling over when watching them live then you're probably doing it all wrong. Join in, there's no choice.