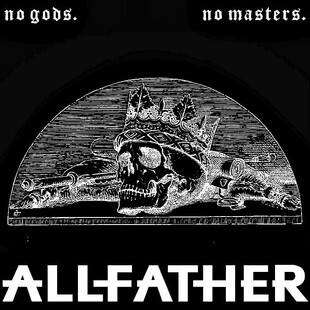 No Gods. No Masters. No idea where that's from, but it's certainly a trope within sludge and stoner circles, used to see it plastered on flyers and guitar stickers years ago, the likes of Bumsnogger et al from the old Nottingham Old Angel scene.
So Allfather, who hail from Rochester in the Meday have the prerequisite black and white artwork, beards and distortion, so what do they do different? Well as it happens cocker, quite a bit. They're one of those strange amalgams of sludge crossed with more metallic and stoner rock elements that make them that bit more pleasant to listen to rather than an ordeal of sonic excess.
They don't pull back, don't let that description fool you, this is heavy and no mistaking, it just has a sliver of sass to it that belies ghosts of the 1970s perhaps. We're talking more flamboyant moments of Sabbath and perhaps Thin Lizzy under there too. This, combined with some pretty righteous lyrics and chugging sections that bring back memories of the first DOWN album, mean this is a bit of a slow-burning grower. On the third listen or so, you start to see the onion unravel, there's multiple layers here at work and much more than you notice to begin with. The vocals are a mix of strained, but clear moans about society and worries about the future, but where they drift into that reliable sludge style, indecipherable and rugged, they start to sound a bit more impassioned. See the start of Post-Austerity Blues for example, this style fits them better, faster and a bit more ripping than initially set out in the first two tracks.
You can absolutely imagine this lot rocking out on a stage that's far too small for all five of them to fit on, like the Old Angel 'stage' which might as well be milk crates. This is great stuff, really dirty but still with hooks that will please those who tire of the doomier end of the genre. It's about time we had less po-faced stuff, where's the fun gone from sludge? Allfather might well be bringing it back.