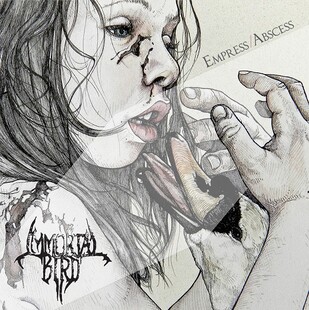 Blurb that purports to combine grind, death and black metal, from experience should mean the accompanying record should always be handled with care, we're talking rubber gloves, pegs on noses and possibly hazmat suits. Seriously over the years we've had no-kidding stinkers that try this approach when their music is clearly just bad.
Erase those thoughts immediately, we have a winner. How Immortal Bird have managed this I don't know but to succeed on the triple-whammy of genre cocktail making should be applauded. Maybe they should give lessons? Somehow moving effortlessly like heptathletes from style to style and often combining them to great effect this is just head-spinning and magnificent.
To pin down a lazy soundalike, imagine a less stoned Cephalic Carnage jamming with Converge. There's even hints of Kylesa bluntness about them in parts, witness the groove-within-grind toward the dying moments of Saprophyte; just stunning.
The vocals have that black metal rasp to them, but styled in a hardcore delivery, like Nocturno Culto if he dug metalcore?
Either way, this album flashes by far too quickly, it's dense layers of screaming guitars and flash bomb percussion creating somewhat of a misanthropic, hyperactive fireworks display. The chunks that literally blast past often open up into these thrash influenced little flourishes too, fuck me if this band isn't all over the place yet totally focused at the same time.
Live videos show them playing to way too few people in strange carpeted venues, their technical assault providing wonder to a select few fanatics. This needs to change, it's taken my face off. A charred skull is now typing this to you.