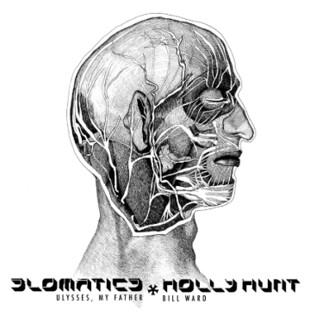 I once had to ask Slomatics to turn down. It pained me, but even the landlady of the pub we used to do shows at had to shout over the rumbles a full two storeys downstairs to ask me if they'd mind awfully not levelling her venue.
It's not just volume Slomatics are known for though, it's a sense of spiritual and rushing release you can't find anywhere else. Their material has progressed to otherworldly levels, no longer earth-bound, their side of this 7" on Black Bow Records just carves out chunks of planets with every pounding beat. Black Bow is of course John Davis of Conan's very heavy baby (666lb and doing well) and his enthusiasm for the music of Slomatics is well-known. He even joined them onstage recently on vocals.
Holly Hunt get an automatic winning smile from us as their track is simply entitled Bill Ward.
Former Floor and Cavity drummer Beatriz Monteavaro makes up half of Holly Hunt and it shows, the skins here being hit harder than is probably necessary. With guitarist Gavin Perry moving in similarly brutal ways, it's a singular riff expanded on until pulverisation occurs around three minutes in.
Echoes of Torche's famous 'bomb notes' are dropped here, along with the unrelenting and energetic riff power of Part Chimp.
This 7" is over far too bloody quickly, for fuck's sake.