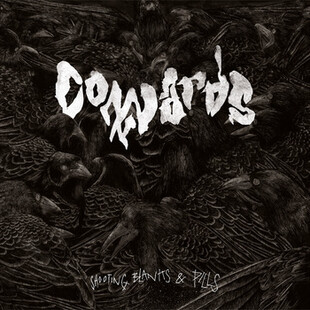 I don't think I've ever come across much French metal in my time before this year, but either the scene there has exploded or it's always been that way, and a secret to me that I'm now gleefully discovering. Since the start of the 2014 I can think of ten or so bands I've enjoyed from the country that, with the exception of The Socks, share a common miserable theme of harshness and gloom (think Plebeian Grandstand, Eibon, Celeste, Direwolves). Cowards are the latest, with this, a reissue of their 2012 album which sold out on original pressing and will now be made available on transparent vinyl.
Cowards are similarly begrimed, creating havoc with their full sounding aural assault of harsh hardcore. The first two tracks favourably bring to mind the superb albums from earlier this year by Hexis or Dark Circles, albeit with slightly less of a black metal tint than the former or crust punk stench of the latter, yet retaining the claustraphobic menace of both that can be unsettling when listened to through earphones.
Shooting Blanks and Pills varies subtly but well, whereby the hardcore freneticism is tempered by a doom outlook. There are a couple of nine minute plus tracks here that show this specifically, Scarce being one, building slowly and nicely, doom in spirit yet oddly sounding brighter and more relaxed than before as the sound is given more space to breathe. It keeps getting better, a bass so sludge sounding it makes you feel dirty just hearing picking up the pace, before a terrific finale.
Channelling Cursed, this is hardcore with an encrusted soul and blackened heart, downtrodden to the point of desperation that'll also greatly appeal to the downbeat breathren of doom circles. Shooting Blanks... is another worthy oasis in the wastelands between genres; Cowards providing further building blocks to bridge the gap between Thou-esque doom and sludge and the darkest peripheries of metallic hardcore.