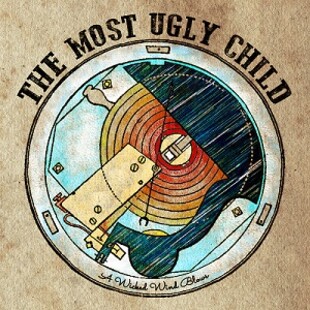 The brilliantly named Most Ugly Child are an Americana/Country band from the wild East Mids. Each song on the forthcoming EP A Wicked Wind Blows is bushy tailed and vital, bristling with Celtic tinged Bluegrass and a singer-songwriter aesthetic. It has an Old time-y feel like Pokey La Farge or Yorkshire's roots guitar maestro Serious Sam Barrett and like these two, Most Ugly Child's retro/vintage feel never comes across as pastiche. The arrangements on this album are varied and provide contrast from the very stripped down Alison Krauss-esque simplicity of Six White Horses (my personal favourite) to the uptempo stomp of A-side Lover O' Mine.
The whole release has quite a dark underbelly as well as being bitter sweet, which in my book, is the best thing about Americana and Country. The stand-out track vocally, is Bluebird again more toward the Bluegrass scale which really shows off the tight harmonies between songwriters Daniel Wright and Stevie-Leigh Goodison's vocals. Stevie-Leigh's voice reminiscent of Celtic Bluegrass's rising star Cara Dillon.
I think this band will have a broad appeal from fans of modern country and alt country as well as transatlantic Irish/Scottish folk bluegrass. I think given the right exposure Most Ugly Child could go far as an EP, A Wicked Wind Blows definitely has a face for radio- It's accessible so I reckon anyone with a passing interest in the genre would be into this, give it a go.