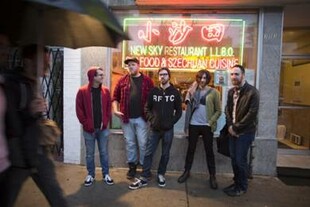 Plaid collar Bro-I-Y Canucks do variable Garage punk in this five-track EP on Toronto's We Are Busy Bodies label.
Its high octane, lo fidelity and I'm sure captures a some of the feeling of seeing them live, which I bet would be where this band's strengths really lay.
This release is bookended by two standout tracks for me, the opener 'Jamesbud' which has a buoyant garage-surf quality and a slightly atonal chorus and the last one 'Pink Suit' which has an explosive quality and a good scream-a-long refrain.
Comparisons are drawn to bands like The Jesus Lizard, Metz and tour buddies, Pissed Jeans, however I think Neon Windbreaker are slightly devoid of ideas in comparison to these other bands. Not to be dismissive, it just seems perhaps some of the immediacy they convey in person is lost in the mix of this EP. Neon Windbreaker don't strike me as angular or arty as the cited influences, but saying that it's not uninteresting or lacking in character.
3 of out 5?