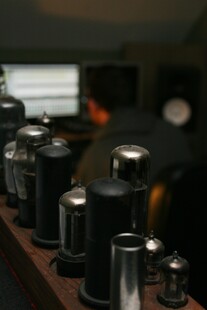 In preparation for homeMADE, taking place on Saturday November 30th, we're taking the time to chat to each band in turn, so it's inevitable we've had to give Tiger Warsaw a platform.
Quite why we've never done this before is baffling, having been almost a ninehertz and Sheffield house band for years, Tiger Warsaw (Dean: Guitars/Vocals, Tev: Bass, Lurch: Drums and Adam: Guitars) are as familiar to Sheffield crowds as any local band which makes them a perfect choice to complete our lineup.
I dropped in on their home mastering session at guitarist Adam's house for their latest release 'IV' which oddly enough, comes on the heels of 'I', 'II' and 'III'. They've recently celebrated seven years as a band so time feels right, homeMADE is just a happy coincidence. The conversation was with Adam, Dean and Tev, but we caught up with Lurch just after via email.
9hz: So for those not familiar with you, when did Tiger Warsaw form and how?
Dean: It is really boring, the old band (Stabbed in Autumn) died so we made another one.
Tev: You make it sound like a pet, 'well he died so we got another one'.
Lurch: Dean and Tev approached me after playing a gig with an old punk band I used to drum with, vaguely remember something like "we want a drummer that can sound epic and use loads of fills like the guy from Pelican" (think they were listening to a lot of them and Isis). At the time I was obsessed with that Part Chimp album "Chart Pimp" and everything Maclusky had recorded so my response was "As long as we can be twice as loud as every other band we play with." I still like it this way today! Kinda hard with playing with the likes of Manatees and The Death of Her Money though!
Adam: (to Dean) Was it when you were living in my loft?
Dean: No, it was 2006. We wanted to do another band with me and Tev and another drummer. The rest of the old band all moved to Leeds, I think it died the night we played with Minus The Bear.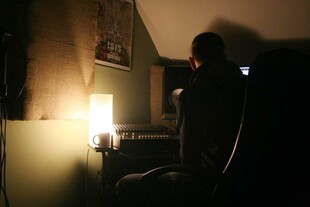 9hz: When was your first gig then?
Tev: This is disputed, we thought it was with Red Sparowes at the Engine Shed...
Lurch: I think it was supporting Red Sparowes at the club that's now home in Lincoln, our friend sarge put it on... they were majestic... us not so.
Dean: No, because Sarge (former landlord of Lincoln pub The Horse and Groom) booked us before we even had enough songs.
Tev: I have them all written down in a drawer somewhere at work, we can check.
9hz: It's been seven years since you started, does it feel that long?
Dean: (without hesitance) Yes. And I can see cracks sometimes and it scares me.
Lurch: Sometimes... sometimes not. We've all been through major changes in our lives over the 7 years. I guess the band sorta reflects that. Like a release of sorts I guess. Ask us again in another 7 years.
Adam: (laughing) No, you and Lurch just get talking deeply about music and then you go to the pub and argue, then you are all fine in the morning. We're fine!
9hz: In those seven years, what do you think you have achieved?
Dean: Fuck all.
Tev: Some really good t-shirts?
Dean: Seriously though we've learned so much about recording.
Adam: So much.
Dean: We've also learned how to build a studio.
(A garage at Adam's home has been turned into a live room, we're sitting in the back room which acts as control)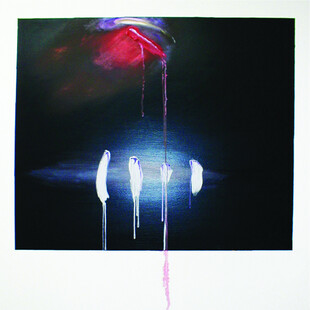 Lurch: Personally I don't like to put benchmarks or goalposts on what is essentially a hobby... sorta takes the fun out of it. I guess we've got better at writing songs, crafting the Tiger Warsaw sound. I'm very excited about people hearing the next record. Although it's completely DIY it's the biggest sounding to date.
Adam: I've learned that three pints is my limit before I go onstage!
9hz: Have you enjoyed it then?
Lurch: Of course, wouldn't do it if I didn't.
Dean: Yeah, I have. But it's not about the music, it's about us being friends and how we've changed too.
Adam: As long as he can play drums and he can play guitar I don't fucking care. It's only for half an hour now and again we're on stage anyway.
Dean: You asked what we have achieved, I'd say tolerance and not to alcohol.
Adam: Well we're better at writing songs too, we don't just stick bit of riffs together any more.
Dean: That's true.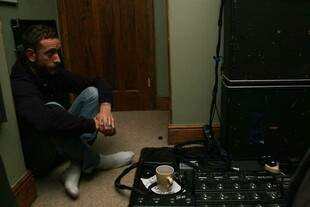 9hz: What have been the highlights then?
Lurch: Highlights... plenty, supporting Russian Circles, Red Sparowes. The numerous drunken shows in our old local where anything went. (I would elaborate but really can't remember details).
Adam: When I joined?
Dean: It's got a lot better since I stopped drinking so much before I went on stage. There was one show at the Horse and Groom where I bent down to plug in my pedals and nearly headbutted the floor, I stood up and thought 'Woah, I am pissed'. I could just see Adam's head looking at me and shaking.
Tev: The time we played with Russian Circles was good.
Dean: Yeah basically we peaked too early on as a band, Lincoln's not been the same for a long time, in fact it's shit. There's no venues any more. The best times are actually the times driving back from shows or tours.
One of my favourites, write this down, is when we were driving back from the tour with Flatlands and Lurch's car popped a tyre. We had to stop and as he was getting the spare out the back he was just chucking his ex-wife's clothes over the motorway bridge, he threw her jewelry box over as well, he kept saying 'I'm gona scrap this car anyway, fuck it', I was pissing myself.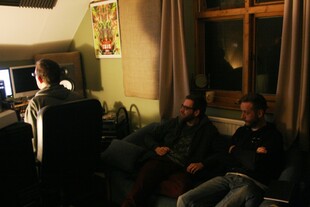 Tev: The night out after is usually the best part of a gig. Don't write that down though.
Adam: Yeah chips and gravy in a gay club in Sheffield at 3am!
9hz: Yeah... anyway. How often do you guys practice?
Dean: We try for once a week.
Adam: We would but all the stuff's in my fucking garage!
Dean: We'll try and practice twice in a week before a show, then we end up not practicing for weeks after one.
Tev: I think we learn more when we record. Like you hear bits you didn't know were that way.
Dean: Work and other stuff gets in the way though. We're all getting old.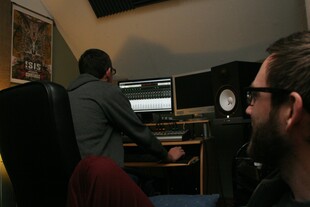 9hz: What's the new stuff like?
Adam: We're saying Beach Boys and Close Encounters of the Third Kind.
Dean: Only one bit of a song sounds like that. But the rest just aren't as heavy, there's more disco beats too.
Tev: It's all turning a bit poppier.
9hz: What kind of bands have you been listening to at the same time as recording?
Dean: I knew you were going to ask that and I've been thinking about it, but having said that I walked home the other night listening to Cheryl Cole so fuck it.
Actually, you say what are we listening to when we wrote it, some of the songs were ready two or three years ago, 'Steve Is A Light' was written just after we finished 'III'.
Adam: I still listen to all the same shit I always have.
Dean: I really like death metal now! ArcTanGent finished a lot of the post rock stuff for me. The only bands I really enjoyed were the ones that were different like Dragged Into Sunlight and Nordic Giants.
As we've recorded more I've been pulling apart new stuff as I hear it, half the riffs on the new stuff will sound better than they will live on record if that makes sense. I've been accentuating different bits on the record but won't do the same live.
Tev: Sometimes playing loud will be like a competition of who can play loudest.
Dean: Because we're getting older we want it smoother these days.
Tev: Yeah.. turn it down a bit.
Dean: Taking a field recorder to practice really helps as we can hear what things sound like from a different perspective. We can put arguments to an end by listening back now.
But I guess in terms of new records, the new Converge, Cult of Luna, Pelican, Deafheaven and Touche Amore have been amazing. But I've also been listening to indie crap I don't like on Zane Lowe's show because I've been working late.
Adam: I love 80s metal and there's some proper 80s solos on IV. You bitches love it!
Dean: Ha, yeah. Having said that I've just listened to that big Dischord box set again, not much new really.
Tev: I think a song comes along sometimes and you think, hmm, that's different and it seeps in.
Adam: Crabcore is great! I love it!
Dean: It's the videos that make crabcore though.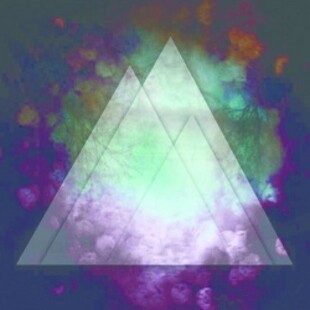 Lurch:: Lots of hip hop, old Anticon stuff like cLOUDDEAD, Why?, Themselves. B Dolan and Sage Francis, Saul Williams, Doomtree Collective. I'm really into sound of rum at the minute and bits of female spoken word.
Kate tempest is especially fantastic... quite excited about going to see one of her plays. Also lots of Ryan Adams and a bit of noisy punk, Pissed Jeans, old Fugazi... all sorts really. Oh and I've just discovered these guys called Sleaford Mods from Nottingham i think... so good!
9hz: What's the artwork going to be like for the new one?
Lurch: That's Dean's area... broody for a guess? (Ed: Nope.)
Dean: Well Lurch has been moaning saying nobody takes pictures of the drummer, so I thought we could have him playing the drums in the lightest room ever with like lasers and bubble machines and shit. (descends into laughing)
Adam: The other releases have just been dark. Proper, dark, wth triangles or the odd photo manipulated.
Dean: I want to use Steve's (Steve Haddock, photographer) new studio and have a mental rave party with lasers and flares and stuff.
Tev: We could get some of those old cigarette holders and put sparklers in them!
Dean: Well you can do that, but we should oil Lurch up and light fireworks and grease his hair back.
Adam: So probably just a photo is the answer.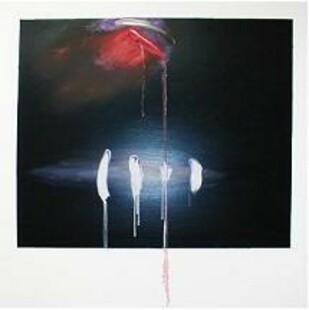 9hz: What are you hoping to do in the future?
Dean: Release a reverse album!
Adam: Seriously the songs sound amazing backwards (plays some, it sounds pretty cool)
Tev: It sounds great because it's reversed guitars but the drums the same.
Dean: What's the plan? Hmm, well to actually tour. And to play warm places as it's always fucking freezing here. Another is to maybe not self-release. You do make more money back doing it yourself but it's good to get distribution a bit more.
9hz: Do you enjoy playing live?
Lurch: It's the best thing about being in a band isn't it? Ok the recording process has its merits and is rewarding but playing live is instantly rewarding. Nothing like that "us against the world feeling" you get when you take to the stage in a city you've never played in to an audience who know nothing about you?
Dean: I was thinking about this the other day, Lou Reed I think had a great quote where he was saying like why do people obsess over music and get it sounding perfect in a studio when you can just enjoy it in the moment. I liked that. What's the point in playing if you don't enjoy it?
Tev: I enjoy it, but I get nervous these days when I know I'm having to sing. I never used to.
Dean: Is that because we don't play as often?
Adam: I like playing when I can hear it.
Dean: I hate monitors, they don't make sense when you practice like you do, all the amps facing in. I enjoy the gigs when it's not a rush. Getting in from work, getting there, setting up, getting a taxi for the gear to go back home.
Tev: We never used to, but we worry about the logistics of gigs now, we never used to. Guess we are getting old.
Dean: I enjoy it if it's DIY. I hate soundchecks, honestly if I could I'd stick Lurch out the front, it just makes more sense.
9hz: Because you have an hour at homeMADE, what can people expect?
Dean: 45 minutes.
Haha, no we'll play the whole new record and then there's a formula, one from I, two from II and three from III. We really should play 'Afghan' as we haven't for ages. We could open with Afghan and just trash the stage and then set Lurch on fire.
I reckon a game of Hero Quest takes longer than our set. Hey, we could have a game of Twister in between songs.
Tev: We'll all act out a scene from our favourite film.
Lurch: I'm sure we'll come up with something.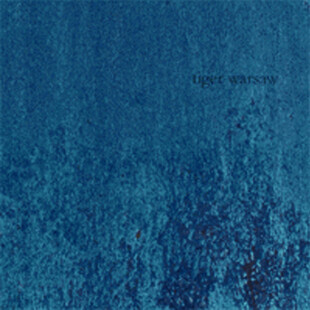 Dean: It's going to be like Britain's Got Talent, we need a dancing dog. We could have a projection of us playing Mousetrap in slow motion, but maybe we should do magic instead?
We once got someone called Kiwi to join the band for a bit and we had a game of Twister as an initiation, it was the most homoerotic thing ever. We could bring him and make him play Twister.
Seriously though, there's going to be shitloads of merch.
Tev: We've got a fine back catalogue of shirts we can't get rid of.
Dean: The best was when we were selling blue shirts for a quid at Corporation, next to Baroness selling them for £18. We sold out in about ten minutes.
There's going to be deals at this one, 50% off if you wear 50% of your clothes.
Tev: But it has to be vertical, like one sleeve, one trouser leg on one side.
Dean: There's a dress code, shorts and Hawaiian shirts.
Tev: If anyone else has Hawaiian shirts on, it's 50% off.
Dean: Or a can of beer = one shirt.
Adam: Yeah lager for shirts is fine. Also free patches with every purchase.
Dean: There's also going to be knee slides.
Tev: Adam will do a knee slide on the Twister board.
9hz: We left the interview there, slides on retro party games is where we draw the line.