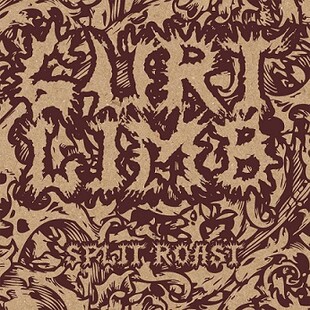 Split records are always an enticing proposition, a sense of something a bit different to add to your collection and hear two bands willingly pitting themselves against each other. However, all too often the reality is much less, with bands adding quickly written and recorded output or album session cast offs, leaving the novelty value of the split to remain as the lasting quality. There are exceptions to the rule - Bumsnogger spring to mind, submitting as they did their finest recorded moment, Trampling the Infidels with Hooves of Hot Iron, to the opposite side of vinyl from Among the Missing. This links interestingly here to Split Roast for two reasons - the first and most obvious being the input of Chris Kaye, 'Snogger guitarist and the man behind Witch Hunter Records, who are releasing this.
The second reason is that, as with the Bum the Missing split, this marries two of the underground UK doom sludge scenes hottest acts at their time. To further pique the interest, Split Roast has a special feeling in the make up of songs - each band recording one new track, one cover and one cover of the other artist's material. This isn't your run of the mill stick two demos/EPs together for shared convenience and increased exposure split.
Gurt's new track, Sophisticate is an impressive beginning, a rollicking riff n roll sludge leviathan. They have arguably never sounded better, immediately putting to bed my fear of second rate inputs to splits. For their cover, they go slightly leftfield, choosing Talking Heads' Psycho Killer. Unsurprisingly in their hands it is brutalised and bruised out of recognition, but the manic vocals cause a thought of the silly vocalist from Disturbed to pop into my head, and once it's there I can't dislodge it, understandably affecting my ability to enjoy the track from then on. They conclude by covering Limb's title track from their Gift of the Sun EP. It provides a darker, sludgier version than the original, which sat on a nice doom/stoner line. The mixed tempo (fast, slow, slower) suits Gurt's delivery and it provides an interesting take.
Limb's original submission is Plague Doctor, a fantastic heavy beast of a track. Limb, as proven already, have a real ear for a groove. The two new tracks on offer here are worth the price of the CD alone. Limb follow Gurt's lead with a less than obvious choice of cover - the lesser known Queen track Son and Daughter. It sounds massive, more like Bongzilla covering Iron Monkey than anything originating from Freddie, Brian et al. The riff sounds so much like Iron Monkey, uncannily so, that I check out the original on YouTube and it's there - bizarre. The split ends with Limb tackling Gurt's Soapfeast, from their split with the sadly defunct Dopefight. I haven't heard the original, but sounds great here, for the first half anyway, before descending into silly OTT repetitive swearing - I'm no prude, but I'm not 13 either and feel it'd have been better without it.
The odd minor quibble aside, this is a vital and enjoyable split, done justice by both band's obvious commitment to the release. A lot has been written about the current buoyant health of doom on this isle on these pages, but this just provides further evidence; a snaphot of a genre in rude health. Essential, visceral and exciting, Split Roast perfectly summises the scene from which it was borne, forged into a beautifully presented and lovingly created must-have collectors item.