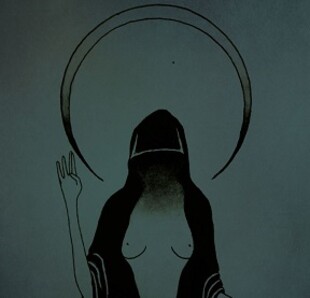 This is a nice surprise - a solid slab of psychedelic stoner rock from Sweden (where else), that I stumbled across by accident. The opening Ruler of Dust impacts on your consciousness immediately as the lead riff repeats and repeats throughout - instantly lifting this EP above many of the also-rans of the stoner genre. It's metronomic quality brings to mind moments from Toner Low's superb self titled debut, albeit probably not as heavy and with a more stoner rock base.
Like the aforementioned Dutch mob, Moon Coven's charm is based on their ability to sit in the centre of a prism of influence, between stoner, psych space rock and doom. The rolling repeating riff methodology is present elsewhere - on occasion it feels a little laboured, but on the whole gives Amanita Kingdom a truely hypnotic aura.
At points your mind is drawn to comparisons that vary from early Monster Magnet to Los Natas' spaced out jams, to Earth's ability to send listeners into a trance or snippets of Sleep or Black Pyramid, even to the dreamy psychedelic indie of Dead Meadow perhaps. While not at those levels, it all adds up to a compelling listen - not the masterpiece bolt from the blue debut that Toner Low produced, but a definite smile-inducing EP that you feel the better for knowing. Judging by the band photos on their facebook page they're a young band, and Amanita Kingdom puts a strong case forward to expect a burgeoning future. Moon Coven are ones to look out for, for sure.