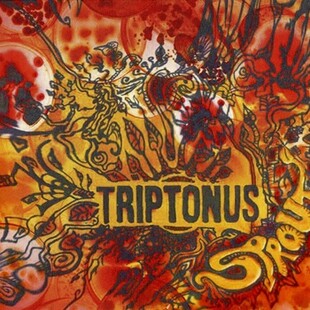 Here we have another journey into the unknown, with an EP from Triptonus, who are a six piece instrumental collective, hailing from Vienna, Austria. They combine guitars, drums and bass with an eclectic mix of other instruments, including a Djembe and Wavedrum, to create songs that are unique in their composition and delivery.
The Sprout EP promises to deliver stoner rock grooves with African rhythms combined with progressive song structures, and I'll tell you something it delivers on every single front. I turned this on and after two minutes of listening to Uhrwerk I was completely hooked. Where have these lot been hiding?
It begins with an African drum sound, the hands tapping out a beat, before the drums, guitars and bass kick in to add some meaty weight to it. The rhythmic guitars then take the sound to a new level, before the slap bass kicks in, your head wondering where it will take you next. It just all fits so beautifully, and the 6 mins plus of this first masterpiece just fly by. The musicianship on display on Uhrwerk really is just sublime and makes you realise that these guys have crafted songs of pure genius.
The tempo then changes completely for Suuto, a slow beginning to the song, but nonetheless, the composition of the song works just perfectly. Two minutes in, the noise is turned up another level, before another break in the song, slowing down again. It just amazes me how Triptonus aren't better known, because they really are stunning. It would be impressive seeing this live just to see how this all fits together on stage.
The stand out highlight for me is Apfelmanntanz, from the opening bass lines through to the crashing guitar sound, it is just an epic cacophony of well-crafted genius, blended together to make the listener take on board all of the instruments and you can't help but smile when you listen to it.
All in all, an absolutely stunning effort form Triptonus and I hope that the Sprout EP is a sign of things to come from this talented bunch.