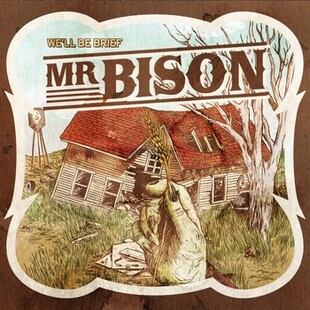 Mr Bison are a three-piece from Tuscany, famously Tony Blair's favourite holiday destination. That's thankfully where any links to a former UK Prime Minister end. What we have here instead is a straight-up stoner rock band playing like it was 1999. That's no bad thing, if a sound ain't broke, don't fix it. However despite being very Euro-stoner, this album has more in common with the likes of Orange Goblin in sound if not lyrical content.
There's no talk of spaceships or sand dunes though, the lyrics are weirdly personal and strange.Take the rocking, but slightly mundane lyrics from Grocery Store for example. With its chorus of I go to the grocery, the grocery store it makes me feel, at least, like I've entered another world altogether where even the most normal sentences can be anthemic, I'm planning on writing a hit on hoovering as a result.
Elsewhere the lyrics aren't so much the star of the show, but a distraction to what is a pretty tight three-piece unit. They bluster their way into your head in a way that the usual stoner rock also-rans simply don't, there's an energy bubbling under the surface that's palpable on every track.
One for the stoner rock fans for sure, it won't win plaudits from casual fans at all. Try this alongside some recent stoner rock releases to compare it for originality however and you'll be pleasantly surprised.