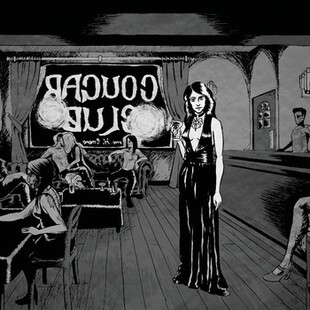 The haunting, eerie bells, the sound of screeching feedback, that sends a bit of a shudder down your spine before the doom laden drums and bass kicks in... this is the sort of intro that really makes me enthused and want to listen to it in great detail. In fact, I've done nothing else since receiving it as it is such an enthralling piece of work from Spider Kitten.
For those of you who haven't heard of Spider Kitten before, then where have you been? They have been around since 2001, formed as a two-piece, they have now added Chris on drums, who used to play in another favourite band of mine, Taint, and have now produced a haunting concoction of noise and subtle riffs which are just so easy to listen to. The bass would seriously make your ears bleed when listened to live.
Opening track, Twin Obscenites belittles the fact that it is almost seven minutes long, as it makes your head spin, grabs it and pulls you closer in deafen you with the drone. Time does fly quickly here and by the time that Burdened has started, the dual assault that the searing bass and drums have on this song, really does make you feel like you head is being personally subjected to a violent assault.
With Time takes its Toll, the display a very different approach and go down a more acoustic route, with really demonstrates just how good this band are and provides a platform for Chi to display his vocal range once again. It does remind me a bit of early Alice In Chains here, which is no bad thing, and gives your head a chance to recover in time for the next pounding.
Which arrives in the form of the title track, where it seems that they have turned everything up to ten. This is a cleverly-written song, with the intro really drawing you into their dark world before they spill their guts, combining many different sounds to make a really classic song as it just all fits together perfectly.
Just sit back and enjoy, as this is the real deal.