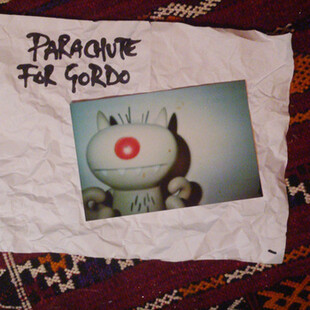 Parachute For Gordo are a three-piece instumental outfit who have recorded this effort within six months of getting together.
Taking cues from the scene's best elements this is a pleasing, if scrappy sounding release. Recorded in their practice space within three hours, it still allows the various unique approaches of each member to shine through. A clean guitar sound at loud volumes from the delightfully-named Laura Lee gives it an offbeat alt sound straight from the early 2000s, we're talking that almost baritone sound like That Fucking Tank or similar post-whatever bands. Underpinned by bass the quiet sections are perhaps most engaging, with distorted and cacophonous sections descending into a sheet of noise only perceptible if you strain your listening.
Use of some fantastic and thought-provoking samples from films and public information films brings to mind the always-influential From Monument To Masses or even recent BBC Archive-raiding duo Public Service Broadcasting. The music reacts to the sample content too, always a plus as sometimes they can be lost to noisier sections.
The quiet section in When I Was A Teenage Manata Ray too is great, a sample of radio chatter contrasts perfectly with the more esoteric noodlings going on behind. Layering is in this season folks and Parachute For Gordo are bang on trend (says some berk).
Seriously though, for a band only just together, this is a great little EP, invention by the bucket load and not a hackneyed post rock crescendo in sight. There are moments of sheer catharsis for sure, but they pop out at you rather than emerge obviously from the horizon. On MonkeyDoo for example, the pregnant pause following a stiff upper-lip sample means elation when the band come back in with some distortion-layered riffery. Liking the acapella shouting too, nice touch!
One problem though, there's more than eight minutes here. Liars, the lot of them.