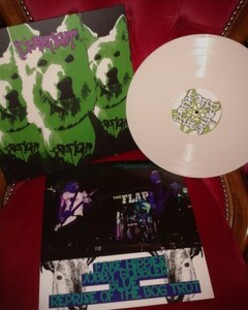 Limb are a band being talked about constantly at the moment. It's not hard to see why, a weighty and proudly sludge-hewn sound greets you as soon as new 7" single Gift Of The Sun erupts. With a bass sound similar to Sabbath worshippers Black Moth, it's all full frontal assault and gravelly vocals until the latter part of the song, which steps off the gas and allows the slinky bass contortions to be explored a bit more. The vocals are that distorted, yet clear style which allow you to enjoy the lyrics (full of regret as it happens) but still rattle the old brain cage.
B-side Quiet Earth has an Eyehategod-esque swagger to it and some more screamy vocals on show, but keeps that identifiable Limb sound, which is akin to a battering ram at times.
Dead Earth offers more of a mid-paced stomp, cocksure and of a style that brings more doom-esque elements to the fore. But these are not merely sludge or stoner rock posturing sessions, it's Limb showing you what can be squeezed into 7"s of wax and it turns out, it's a lot.
Check out the pre-orders here.